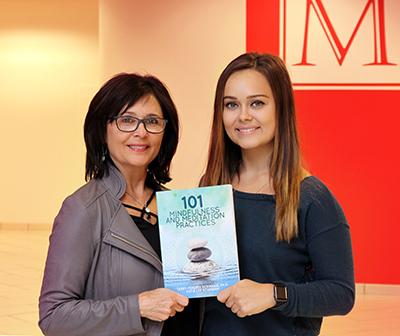 "This new book, written by Terry and Katie, is a welcome and practical addition to the literature, helping to bridge the gap between scientific research and the easy-to-implement practices that busy people can actually do."
Mary Yoke, University of Indiana applied health science professor
University Communications
Eckmanns release new book
MINOT, N.D. – Terry Eckmann and her daughter Katie released their new book, "101 Mindfulness and Meditation Practices," in March.
Terry is a professor and chair of the teacher education department at Minot State University. Katie is an English education major at MSU, and a trauma sensitive yoga specialist.
The research-based practices in the book give the reader the why, what, and how to live a more mindful, healthy life. The benefits of practicing mindfulness and meditation include stress reduction, lower blood pressure, lower anxiety, improvement in memory and focus, sleep enhancement, and chronic pain and substance abuse reduction. 
"101 Mindfulness and Meditation Practices," is already receiving positive reviews from health educators and wellness specialists from around the country.
"This new book, written by Terry and Katie, is a welcome and practical addition to the literature, helping to bridge the gap between scientific research and the easy-to-implement practices that busy people can actually do," University of Indiana applied health science professor Mary Yoke said.
The book was published by Healthy Learning Publishing Company, and can be purchased at Main Street Books, Spectrum Fitness, and Yogifyu.
ABOUT MINOT STATE UNIVERSITY
Minot State University is a public university dedicated to excellence in education, scholarship, and community engagement achieved through rigorous academic experiences, active learning environments, commitment to public service, and a vibrant campus life.
---