'Three Women Who Made History' presented at Minot State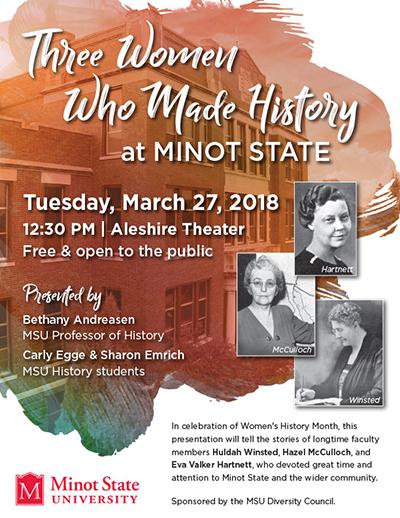 "Minot State has emphasized the mission of service not only to the institution's students, but also beyond its campus. The lives of long-time faculty members such as Huldah Winsted, Hazel McCulloch, and Eva Valker Hartnett, all illustrate this mission."
Bethany Andreasen, Minot State history professor
MINOT, N.D. – Minot State University history professor Bethany Andreasen along with two MSU history students, Carly Egge and Sharon Emrich, will present "Three Women Who Made History at Minot State," Tuesday, March 27 at 12:30 p.m. in Aleshire Theatre.
The presentation will tell the stories of longtime faculty members Huldah Winsted, Hazel McCulloch, and Eva Valker Hartnett. All three devoted great time and attention to Minot State and the wider Minot community.
"From its beginnings as a normal school, Minot State has always been an institution that has boasted strong female faculty who inspired generations of students," said Andreasen. "This presentation will feature three early faculty members who can still serve as inspiration today."
Winsted worked at Minot State from 1913 to 1937, serving as a geography teacher, librarian, registrar, dean of women, co-founder of the local branch of the Young Women's Christian Association, and an author who published three volumes of poetry. 
McCulloch worked at Minot State for 44 years (1913-1959), supervising practice teachers, teaching history courses, and directing alumni relations. 
Hartnett taught courses in arts and education from 1927 to 1961, during which time she also directed marionette theater, served as faculty chair for Homecoming, and helped lead students on international cultural tours. 
Emrich, who is a senior history major for Artesia, N.M., researched Hartnett for a class on North Dakota history, while Egge, a junior history education major from Williston, N.D., is researching McCulloch for a history internship for the Digital Minot project. The Digital Minot project featuring Andreasen's and Egge's work can be found at this website (http://digitalminot.minotstateu.edu/dm2015/).
"For thirty-four years, Mrs. Eva Valker Hartnett was a fixture on the campus of Minot State Teachers College," said Emrich. "(Her) devotion to teaching art, her honesty, and the desire to bring out the same devotion in her students made her a truly remarkable educator and role model for generations to come."
"Hazel McCulloch was an influential faculty member at Minot State Normal School starting when it opened its doors in 1913," added Egge. "Over her career, she filled many roles on the campus such as professor, Director of Alumni Relations, and advisor to numerous student groups. The campus and the Minot community honored McCulloch for her service by placing her name in the Exchange Club's Book of Golden Deeds, selecting her as the Minot Business & Professional Women's Club's Woman of the Year, and naming a dormitory for her at Minot State."
The event is in celebration of Women's History Month and is sponsored by the Minot State Diversity Council. It is free and open to the public.
"Minot State has emphasized the mission of service not only to the institution's students, but also beyond its campus," said Andreasen. "The lives of long-time faculty members such as Huldah Winsted, Hazel McCulloch, and Eva Valker Hartnett, all illustrate this mission."
About Minot State University
Minot State University is a public university dedicated to excellence in education, scholarship, and community engagement achieved through rigorous academic experiences, active learning environments, commitment to public service, and a vibrant campus life.
---