Bakken calls 300th game with Red Vision Productions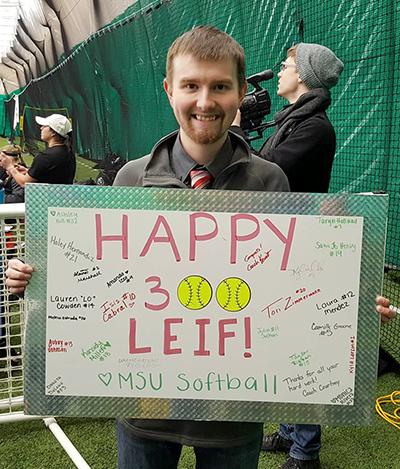 "The biggest thing for me is working with athletics and with the KMSU Auction is it's a team. It really comes down to communication and building relationships. That's what it has been about for the past four years."
Leif Bakken, senior broadcasting major
MINOT, N.D. – Getting real world experience is at the core of Minot State University's broadcasting program's curriculum.
Senior Leif Bakken has taken that to the extreme.
Bakken celebrated his 300th live, online broadcast via the MSU Athletic Department's Red Vision Productions during a softball game at the Herb Parker Air-Supported Dome at the end of February.
Coupled with his work with the broadcasting program's KMSU Auction, MSU helped Bakken fill his resume.
"The biggest thing for me is working with athletics and with the KMSU Auction is it's a team," he said. "It really comes down to communication and building relationships. That's what it has been about for the past four years."
It didn't take Bakken long to make his mark at MSU after arriving from Lemmon, S.D., four years ago. He knew he wanted to be a broadcasting major and was hoping to stay in athletics, continuing work from his high school days.
It so happened the athletic department was looking for its first play-by-play announcers after building Red Vision Productions. It was a perfect match and the two have grown up together.
"I realized there wasn't anyone doing it when I first got here and I wanted to be involved," he said. "It's worked out great. Right away I talked with Rick (former Athletic Director Rick Hedberg) and we discussed what the future was for the video boards and online. It seemed to snowball from there and get bigger as I went along."
Bakken started doing volleyball, a sport he didn't have much experience with. The university added in women's soccer matches, then men's and women's basketball and wrestling in the winter. By the time spring rolled around in his first season, he was getting comfortable with calling the action, but had an eye-opening experience with the logistics of calling baseball and softball off campus.
"I was excited to get to do baseball because I played that sport and feel I know if pretty well," he said. "But getting things figured out for those games was a new experience. One of the big lessons for me in athletics is how we have to constantly adapt. I was proud when we found out we were one of the only (Northern Sun Intercollegiate Conference) teams broadcasting those sports. We were in an elite club in the NSIC and were ready to do more, to keep adapting."
So it was fitting when the softball team presented Bakken with a sign and the game ball commemorating his 300th call.
"I wasn't expecting that at all," he said. "It's a big milestone for me. Minot State has really shaped me a lot as far as a broadcaster goes. I never thought I would be at this point. I have had the unique opportunity to be at a school that is just the right fit. I wouldn't get to do these things at a big DI school – I wouldn't be able to get to have the relationships with our coaches, players, and administrators and the opposing team's coaches and players like I do.
"Neil (associate professor of communication arts Neil Roberts) has been a great mentor for me along with Rick, Mike, (former Assistant AD Michael Linnell), Roger (Assistant AD Roger McAfee), and Andy (MSU Director of Athletics Andy Carter). I've gone from running a camera to shooting stories to producing my own weekly show (along with fellow broadcasting student Anthony Battle)."
Bakken, who won a 2015 Eric Sevareid Award for his Student Market Series titled "Minot State Division 2 Transition," given by the Midwest Broadcast Journalists Association, feels both the athletic department and the broadcasting department have matured along with him during his four years.
"It's really exciting to see what has happened in both departments," he said. "Just the man power alone at Red Vision Productions has been building and growing. Tech wise, with the replay boards and camera angles, it has really improved and the broadcasting program's equipment has really improved.
"When Anthony and I were looking back at the first year of the Sports Splurge compared to this year, we couldn't believe the difference. It now looks like we are broadcasting in the year 2018 instead of 1996. It's such a nice product now."
About Minot State University
Minot State University is a public university dedicated to excellence in education, scholarship, and community engagement achieved through rigorous academic experiences, active learning environments, commitment to public service, and a vibrant campus life.
---