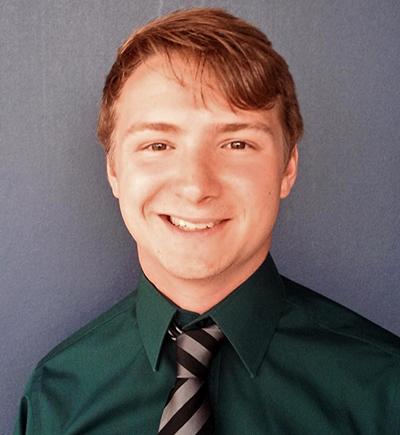 "I quite liked the opening, slow part of the Anderson (piece).... I also give him points for the craft of how the score is written, laid out and marked.... There is a maturity about the way the music is visually presented."
Said renown composer John Stevens in his review
University Communications
Anderson wins Minot Symphony Orchestra's Young Composers Competition
MINOT, N.D. – The Minot Symphony Orchestra (MSO) announced Minot State University senior Erik M. Anderson as the winner of its inaugural Young Composers Competition with his original composition, Prologue. Anderson's work will be featured at the March 10 Minot Symphony Orchestra concert at Ann Nicole Nelson Hall at Minot State. In addition to his work being performed, Anderson will also receive $500 cash prize and a recording of his piece.
"This is something I have wanted to do for a couple of years now, and we finally got all the pieces together to make it happen," remarked Efraín Amaya, MSO music director.
The MSO Young Composers Competition was open to aspiring composers age 30 and under who were living or pursuing music studies in North Dakota, Minnesota, Montana, South Dakota, or Wyoming. Compositions were up to 10 minutes in duration composed for a symphony orchestra of traditional instrumentation not have been performed or read by a professional orchestra before submission. Applicants were judged on their originality, artistic promise, and score presentation by the renown composer John Stevens and Amaya.
"I quite liked the opening, slow part of the Anderson (piece).... I also give him points for the craft of how the score is written, laid out and marked.... There is a maturity about the way the music is visually presented," said Stevens in his review.
The public is invited to the symphony's March 10 performance where Anderson's work, Prologue will debut. The pops concert will be titled, "The Wild, Wild West" and will feature works by Aaron Copland, John Barry, Richard Markowitz and Elmer Bernstein. Tickets start at $25 for adults with senior and student discounts, and can be purchased online at www.minotsymphony.com or call 701-858-4228. Military tickets can be purchased at the MAFB ITT Office.
The Minot Symphony Orchestra is a community orchestra that has been performing for Northwest North Dakota for over 90 years. Members of the symphony include area high school students, Minot State University students, Minot State University faculty, as well as community members from a wide variety of professions. The common thread among its musicians, is their love of music and performing.
ABOUT MINOT STATE UNIVERSITY
Minot State University is a public university dedicated to excellence in education, scholarship, and community engagement achieved through rigorous academic experiences, active learning environments, commitment to public service, and a vibrant campus life.
---