Northwest Arts Center opens New Year with two exhibits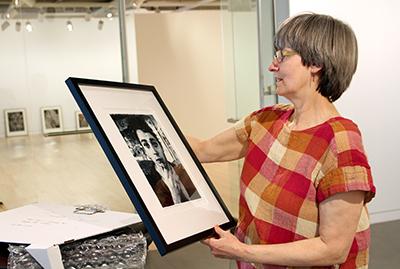 "It's such a step forward from what we have had here. We were limited in what we could have as shows in the past because of the space. We now have a climate controlled exhibit area and just the shear space we have now is great. I have more lights than I've ever had. It is great to have our name on the front of the building – everyone will know who we are and where we are at."
Avis Veikley, Northwest Arts Center Director
MINOT, N.D. – The new exhibit space at the Northwest Arts Center at Minot State University will showcase contemporary art from across the nation along with a solo exhibit by an internationally recognized North Dakota artist beginning Jan. 9.
An exhibit of mezzotint prints, "Regalia," by Linda Whitney from Valley City, N.D., and "Americas 2018: Paperworks," the 47th annual edition of a juried art competition sponsored by the center, are the first two exhibits featured in the newly renovated space in the lower level of the Gordon B. Olson Library at MSU. Whitney served as juror for the Paperworks competition and earned her solo show as Best of Show artist in last year's competition. This year's Best of Show artist was awarded to Jenny Freestone, Takoma Park, Md., for her print, "Aqua 1, First State."
"It's always a good thing for an artist to have a solo show. Our juried show is a way for artists to build their resume. To be in the show is a plus, to win an award is great, but the main award is to have a solo show," said Northwest Arts Center Director Avis Veikley. "Whitney is really well known in the state. She taught art at Valley City State for many years, but now is making art full time. She has a printing press in her living room. She has been in the show for many years so it was really nice to have her win. It will be a great way to open the gallery."
Veikley has been busy readying the new 2,100-square-foot space – the Walter Piehl Jr. Gallery – for its first show and is excited for the future.
"It's such a step forward from what we have had here," she said. "We were limited in what we could have as shows in the past because of the space. We now have a climate controlled exhibit area and just the shear space we have now is great. I have more lights than I've ever had."
The Northwest Arts Center is planning an April 19 Grand Opening to show off the new public reception area, office, and workrooms.
"We will have a great reception area for entertaining people, and we are much more accessible to the general public here than where we were before," Veikley said. "It is great to have our name on the front of the building – everyone will know who we are and where we are at. It's nice to have our own parking lot as well."
The gallery hours are 9 a.m. to 4 p.m., Monday through Friday. Parking and visitor entrance are on the south side of the library.
Whitney's solo exhibit will be on display through Feb. 16; "Americas 2018: Paperworks" runs through Feb. 21. A public reception for the two exhibits will be Friday, Feb. 16, from 6:30 to 8 p.m. at the gallery. Exhibits and reception are free and open to the public. Parking in campus lots is unrestricted after 5 p.m.
This program is funded in part by a grant from the North Dakota Council on the Arts, which receives funding from the state legislature and the National Endowment for the Arts. For more information on these two exhibits and the Northwest Arts Center, log on to http://www.minotstateu.edu/nac/index.shtml.
About Minot State University
Minot State University is a public university dedicated to excellence in education, scholarship, and community engagement achieved through rigorous academic experiences, active learning environments, commitment to public service, and a vibrant campus life.
---