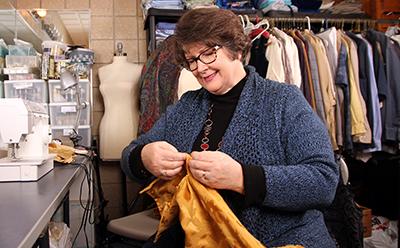 "The show combines the talents of MSU faculty and students, who anchor the orchestra, coach singers, design and build sets, hang lights, work the sound booth, work backstage to move set pieces, assist with props, manage moving 81 people quietly through their paces, and build costumes – it's a long list. Community members also join MSU faculty and students onstage in the chorus, or backstage as sewing volunteers, set painters/builders, or as stage managers. This year's musical brings in local high school students from Minot, South Prairie, personnel from Minot Air Force Base, and dancers from Rinat Mouzafarov's Institute of Ballet."
DeVera Bowles, MSU professor, co-producer, and costume designer
University Communications
MSU, Western Plains Opera present musical theater production of 'The King and I'
MINOT, N.D. – Members of the Minot State University music community along with the Western Plains Opera Company will present Rodgers & Hammerstein's The King and I Jan. 26-28 at Ann Nicole Nelson Hall.
The production, with musical direction from Efrain Amaya and costume design from DeVera Bowles – both Minot State professors of music – is set for single shows starting at 7 p.m. on Thursday, Jan. 25; Friday, Jan. 26; and Saturday, Jan. 27. Sunday, Jan. 28, is set for 3 p.m.
"The show combines the talents of MSU faculty and students, who anchor the orchestra, coach singers, design and build sets, hang lights, work the sound booth, work backstage to move set pieces, assist with props, manage moving 81 people quietly through their paces, and build costumes – it's a long list," Bowles, who co-produces with Amaya. "Community members also join MSU faculty and students onstage in the chorus, or backstage as sewing volunteers, set painters/builders, or as stage managers. This year's musical brings in local high school students from Minot, South Prairie, personnel from Minot Air Force Base, and dancers from Rinat Mouzafarov's Institute of Ballet."
The King and I is based on "Anna and the King of Siam," by Margaret Landon, with music by Richard Rodgers, and book and lyrics by Oscar Hammerstein II. Stage director for the production at Ann Nicole is Julie Wright-Costa, professor of voice at the University of Utah. Joining Amaya and Bowles are Kenneth Bowles, set realization; Rinat Mouzafarov, choreography; Ashleigh Collins, assisted by Pam Ondracek, stage manager; Briana Schwan, rehearsal pianist.
The melding of the Western Plains Opera, Minot State – both the music department and across the campus – along with multiple individuals from the region give the musical production a community feel.
"The Western Plains Opera Company was born through the efforts of MSU voice professor Wayne Nelson. He developed opera performance opportunities for his students and invited guest artists to Minot," DeVera Bowles said. "This learning experience placed students side-by-side with professionals. Those students formed the nucleus for future WPO productions over the last several decades by singing supporting roles, singing in the chorus, playing in the orchestra, or helping with the mammoth tasks of set-building or costuming.
"WPO stands on the bedrock support offered by MSU, who provides rehearsal/performance space, faculty support for administrative and artistic responsibilities, and space for costume storage and construction. WPO's board gathers contributions, revenues from shows and grants to continue the tradition of bringing in guest singers, conductors, stage directors, and lighting designers. Some of these guests are MSU graduates who have become professional singers."
Bowles, who is assisted by Laurel Livingston, is lending her sewing skills as the costume designer. A veteran of 17 years in costume production for Minot events, she and Livingston have been busy building new pieces and borrowing from other productions.
"Costuming a show is an additive process," she said. "I like to say that nothing is hard, but everything takes time. Even the simplest shirt usually has about two hours invested, and most costumes are much more interesting and complex than that! Because I've been designing and building the majority of productions for the last 17 years, the company has some pieces ready to go, though typically things need to be modified. We gratefully borrow from MSU's Campus Players, Mouse River Players, and the high school.
"That being said, this show calls for lots of new construction for the king's children, his wives, and the king himself. Without the help of Laurel Livingston, my sewing partner and organizer extraordinaire, and the help of lots of gifted seamstresses helping out, this show would be....well, everyone would be shirtless. Some people are supposed to be, so when you see it, please don't think we ran out of time."
Joining MSU personnel in production are principal actors with ties to Minot State: Gabrielle Razafinjatovo as Anna; Nathan Bowles as Captain Orton; Zebulon Wallace as Lun Tha; Kaylee Capp as Lady Thiang; Noah Miller as Chulalonkorn; Connor Donovan as Interpreter; and Brad Pierce as Phra Alack.
Other actors in the production with ties to Minot State are: Sara Bloom, Elizabeth Colby; Linda Conn, Miranda Fenner, Karen Niewoehner, Courtney Pederson, and Missy Rohbeck as the King's Wives. Curtis Anderson, Dan Conn, Ernst Pijning, and Dan Ringrose are Priests. Bob Schwartz is a Guard and Alethia Bloom, Rosa Bloom, Zac Bloom, and Miles Conn are Children.
Music Director Amaya will lead MSU faculty, students, and alumni in the orchestra. MSU faculty include Erik Anderson, Deanna Carpenter, Rebecca Petrik, Jon Rumney, who is the concertmaster, Briana Schwan, Avis Veikly, and Charles Young. MSU students are Emily Bailey, Mary Gamas, Nikisa Gentry, Reese Hamilton, Michael Harrison, Jesse Johnson, Donovan Smith, Mya Temanson, and Hannah Veazey. Minto State alumni are Nina Coster, Ann Jermaison, and Kelsey Schweich.
Various promotions and ticket specials leading to the production are on sale online at http://www.wpopera.org/current-production.html.
ABOUT MINOT STATE UNIVERSITY
Minot State University is a public university dedicated to excellence in education, scholarship, and community engagement achieved through rigorous academic experiences, active learning environments, commitment to public service, and a vibrant campus life.
---