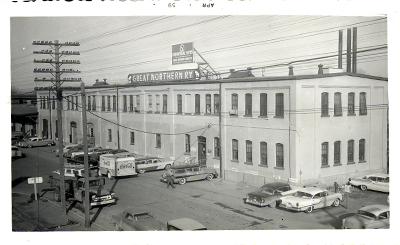 "The most exciting part of this project has been the opportunity to see photographs and other historical materials that are important to the stories of the families and organizations of the people who brought them in for scanning, In one instance, an individual brought in a large set of photo negatives, which were rather inconvenient to view. Dan Ringrose was able to scan them as regular photographic images, which are much easier to view, and can now easily be shared."
Project director Bethany Andreasen
University Communications
Minot's Common Heritage Project to be presented
MINOT, N.D. – Directors of Minot's Common Heritage Project will give a public presentation Monday, Dec. 11 at 7 p.m., at the Minot Public Library.
The project included a "Scan Day," organized in cooperation with the Minot Public Library, at which members of the public could bring in materials important to their family or community histories, such as photographs, artifacts, family letters, and legal documents and have them digitized by MSU history major students.
Among the materials that were scanned and featured for the presentation include:
Programs and newspaper coverage of local opera productions (By the Western Plains Opera Company, an organization whose name has changed over time).
Photographs taken by Nora Strate, a rural school teacher who had been a student at Minot State Teachers College in the 1920s (Made available to the project by Wendy Thomas).
Photographs related to the operation of the Great Northern Railroad in Minot (Provided by Don Tank).
Letters from American soldiers who served in Europe during World War I.
Project directors Bethany Andreasen and Dan Ringrose, professors of history at Minot State University, will discuss the objectives and operation of the project. 
"The most exciting part of this project has been the opportunity to see photographs and other historical materials that are important to the stories of the families and organizations of the people who brought them in for scanning," Andreasen said. "In one instance, an individual brought in a large set of photo negatives, which were rather inconvenient to view.  Dan Ringrose was able to scan them as regular photographic images, which are much easier to view, and can now easily be shared."
The presentation includes some of the images that the owners chose to share with the Digital Minot Project, an electronic archive and museum that will make them available to the public on an on-going basis.
The Minot's Common Heritage project is supported by grant funding from the National Endowment for the Humanities Common Heritage grant program, which was created in April 2015 as part of The Common Good: The Humanities in the Public Square, an agency-wide initiative that seeks to enhance the role of the humanities in civic life.
The presentation is free and open to the public.
For more information on the December presentation or the Common Heritage Project in general, contact Andreasen at Bethany.andreasen@minotstateu.edu or Ringrose at Daniel.ringrose@minotstateu.edu.  
ABOUT MINOT STATE UNIVERSITY
Minot State University is a public university dedicated to excellence in education, scholarship, and community engagement achieved through rigorous academic experiences, active learning environments, commitment to public service, and a vibrant campus life.
---