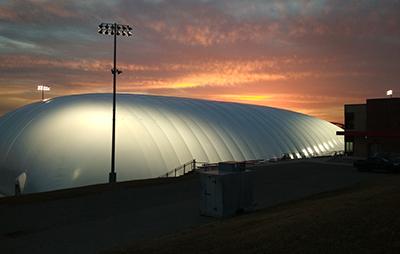 "We know there is a lot of excitement in the community with this project as everyone was able to see the dome rise over the turf at Herb Parker. The open house will give people a chance to see inside the dome and to utilize some of its features along with our teams. It should be a fun night."
Andy Carter, MSU Director of Athletics
University Communications
Minot State plans open house for Herb Parker dome
MINOT, N.D. – Minot State University will unveil the air supported dome at Herb Parker Stadium during an open house Jan. 10, 2018, from 6-8 p.m.
The open house will give the public an opportunity to see inside the bubble and will have Minot State athletic teams available to work with area youth in golf, baseball, softball and soccer.
"We know there is a lot of excitement in the community with this project as everyone was able to see the dome rise over the turf at Herb Parker," said MSU Director of Athletics Andy Carter. "The open house will give people a chance to see inside the dome and to utilize some of its features along with our teams. It should be a fun night."
Community members are asked to enter the air-supported dome on the south east entrance either via the MSU Wellness Center or the stairs leading north from 11th Avenue. Parking will be available along 11th Avenue and in the Gordon B. Olson Library Lot.
The event will also honor those who made donations to the approximately $2 million project. The city of Minot's Community Facilities Fund awarded $1 million and another $1 million was raised by the Minot State Development Foundation from private individuals, foundations, and local businesses.
The dome over the field turf at The Herb took shape as workers from Yeadon Fabric Domes and personnel from Minot State Athletics completed the structure during the week of Dec. 4-9. The bubble covers the entire football and soccer field, measuring approximately 86,000 square feet. The apex of the structure is 70-feet high.
Construction is ongoing inside the facility as workers install lights, netting, and batting cages. Officials at Minot State are asking the public to refrain from entering the Herb Parker Dome without supervision.
MSU is scheduling activities within the structure during the 2018 winter season. There will be community usage times, including a golf driving range, with hours posted.  Individuals and groups that are interested in hosting events will need to reserve the facility by contacting Sean Griffin, coordinator of athletic operations, at (701) 858-3041 or by email at s.griffin@minotstateu.edu. A rental rate sheet is posted at MSUBeavers.com.
ABOUT MINOT STATE UNIVERSITY
Minot State University is a public university dedicated to excellence in education, scholarship, and community engagement achieved through rigorous academic experiences, active learning environments, commitment to public service, and a vibrant campus life.
---