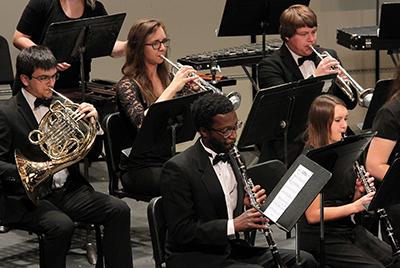 University Communications
Minot State hosts the 37th Northwest International Festival of Music
MINOT, N.D. – Minot State University will again be the destination for the region's best music talent as the MSU Division of Music will host the Northwest International Festival of Music Nov. 3-4.
The festival is the oldest university-sponsored festival in the state, celebrating its 37th year in 2017. From its earliest days of two ensembles, one vocal and one instrumental, there are now five ensembles. In 2009, a third choir, The Nova Choir, was added to give a festival experience to younger individuals and 2017 marks the addition of a second band, The Symphonic Band.
"I am always amazed by Northwest Festival," Carlos Vieira, MSU assistant professor, Director of Choral Activities and Co-Director of Western Plains Opera Company said. "We receive applications from all over North Dakota and region, some of them coming from very small schools and towns. However, there is such a great quality of music around this region."
There will be two concerts on Saturday, Nov. 4 as the Symphonic Band and Concert Bands begin the event at 1:30 p.m. The Nova Chorus, Cantabile Chorus, and Honor Chorus and will perform at 3:30 p.m. at Ann Nicole Nelson Hall. The public is welcome to attend. Admission is $5 for each concert or $8 for both and high school music directors are free of charge with name badge. Parking on the MSU campus is unrestricted for this event.
The Nova Chorus will be led by guest director Joshua Pedde, who serves as the artistic director for the highly-acclaimed Indianapolis Children's Choir since 2016. The Cantabile Chorus (previously the Women's Chorus) will be led by guest director Michael Seil of Bismarck's Legacy High School. Vieira, will direct the Honor Chorus (previously the Mixed Choir). The Symphonic Band will be conducted by North Dakota Music Educators Association president-elect Sara Baumann from Mandan, N.D. MSU's Director of Bands, Dr. David Rolandson, will direct the Concert Band. Each band has about 100 participants, which completely fills the Ann Nicole Nelson Hall stage.
The idea for the NW International Festival of Music started with MSU choral director and long-time music division chair John Strohm and band director Jim Jurrens around 1965. The festival officially became the Northwest International Festival of Music in 1980 as Canadian musicians joined North Dakota and Montana students.
Throughout the years, teachers from area highs schools have submitted auditions via cassette tapes, CDs, and thumb drives. Currently there are live auditions sites both on and off campus and all applications were filled online with uploaded mp3s. In 2017, over 1,000 auditions were submitted.
"This year we will receive some 600 students in both choirs and band and I can tell, by the level of the applications we received and by the quality of our conductors, that the music we will be listening to this Saturday will be outstanding," added Vieira. "This strong connection we build with more than 70 schools and more than 1,000 applicants is a strongest proof of how much of a difference Minot State University makes in the education of this whole state."
The festival kicks off Friday, Nov. 3 with rehearsals thought the day and into the evening. A Division of Music Showcase Concert is set for Friday at 3:30 p.m. that will present an hour of musical ensembles highlighting the variety of musical experiences available to potential students.
ABOUT MINOT STATE UNIVERSITY
Minot State University is a public university dedicated to excellence in education, scholarship, and community engagement achieved through rigorous academic experiences, active learning environments, commitment to public service, and a vibrant campus life.
---