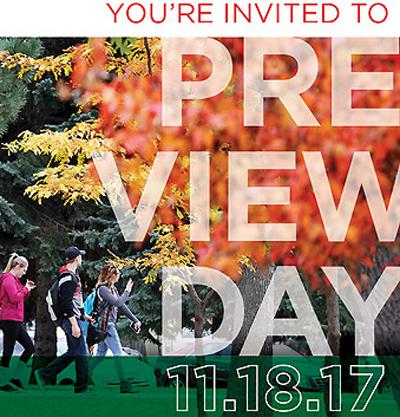 University Communications
Enrollment Services plans 2017 Fall Preview Day
MINOT, N.D. – Minot State University Enrollment Services Fall Preview Day is scheduled for Saturday, Nov. 18 on the MSU campus.
The event will feature valuable information for the prospective student as they move through the search process. There will be tours of the campus and residence halls, information on majors and career options, faculty and student speakers, a department fair and lunch, and breakout sessions. Fall Preview day is open to prospective students and their families.
Hear inspiring ways to narrow your choice for a major from Kevin Morgan, a senior international business and marketing major, and Annika Kraft, a senior professional chemistry and theatre arts major, among other speakers.
"College, as it is, is tough. You therefore do not want the added pressure of not knowing what program to major in," Morgan said. "At Fall Preview Day, we will provide you with all the information you need to kick-start your successful Minot State experience."
The featured faculty speakers are Cheryl Nilsen, professor in the teacher education department, and Evan Borisinkoff, assistant professor in special education.
"We will be exploring how to find your passion and have a wonderful collegiate experience," added Nilsen.
Check in begins at 10 a.m., with selected speakers set to start at 10:30 a.m. Lunch and the MSU Department Fair begin at 11:30 a.m., with afternoon breakout session – three 25 minute sessions featuring MSU programs and degree offerings – run from 1 p.m. to 2:30 p.m.
For more information or to register for Fall Preview Day, logon to www.MinotStateU.edu/enroll/events.shtml, by email at askmsu@minotstateu.edu, or by phone at (701) 858-3350.
ABOUT MINOT STATE UNIVERSITY
Minot State University is a public university dedicated to excellence in education, scholarship, and community engagement achieved through rigorous academic experiences, active learning environments, commitment to public service, and a vibrant campus life.
---