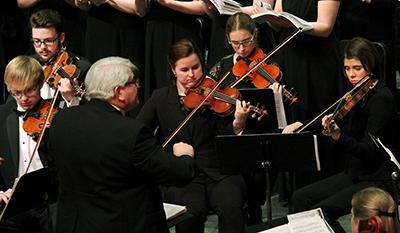 University Communications
Annual 'Messiah' to be presented Sunday at Minot State
MINOT, N.D. – The Heritage Singers, Voices of Note, and various community members will join Minot State University's Concert Choir in a presentation of Handel's "Messiah" Sunday, Dec. 3 at Ann Nicole Nelson Hall on the MSU campus.
Along with the aforementioned singers, the orchestra will be composed of Minot Symphony Orchestra members along with individuals from the community.
The production is set for 4 p.m., open to the public, and is free of charge. A freewill offering will support the Dr. Joseph M. and Jackie Hegstad Scholarship and the John and Patricia Strohm Music Scholarship funds, both of which assist voice students at Minot State.
The "Messiah" has been a fixture of the Minot holiday season for over 100 years and has been performed continuously since 1929.
Minot State professor of music Kenneth Bowles, a member of The Heritage Singers, will direct the performance.
ABOUT MINOT STATE UNIVERSITY
Minot State University is a public university dedicated to excellence in education, scholarship, and community engagement achieved through rigorous academic experiences, active learning environments, commitment to public service, and a vibrant campus life.
---