Minot State plans Take Back the Night event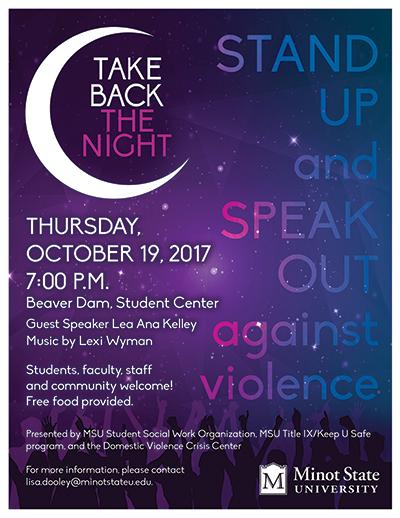 MINOT, N.D. – The Minot State University Student Social Work Organization, MSU Title IX/Keep U Safe program, and the Domestic Violence Crisis Center have teamed up to sponsor the second annual Take Back the Night event Thursday, Oct. 19 at the Beaver Dam in the Student Center.
"The Take Back the Night rally is a community event that raises awareness that a community can make a difference when it comes to promoting healthy relationships and a culture of consent," said MSU Title IX Coordinator Lisa Dooley. "Take Back the Night recognizes that sexual violence can occur to anyone, including males. Although the original marches were established to prevent violence against women, the organization has since broadened its mission and its goals."
The event begins at 7 p.m. and is open to all students, faculty, staff and community members. Lea Ana Kelley, a survivor of multiple forms of abuse, will be the guest speaker, Dominica Granada, a member of the Criminal Justice Club, will discuss the main points of Marsy's Law, and Lexi Wyman will provide music. Free food will be provided during the event.
Guest speaker Kelley is an active duty member of the United States Air Force. She was born in Hampton, Va., but her parents were stationed in multiple places as she grew up. She graduated high school in 2001 from Meridian, Idaho. Kelley has served for 14 years in active duty and is a jet engine mechanic. She is currently stationed at the Minot Air Force Base with her husband (JP), son (Ethan), and stepdaughter (Keila) and has been a part of the Minot community for four years.
In conjunction with the event, the MSU Title IX office is collecting needed items for the Domestic Violence Crisis Center. These items can be dropped off at the Title IX office or brought to the event. The list of items needed includes but is not limited to: cleaning supplies, toilet paper, paper towels, light bulbs, Kleenex, trash bags, food items, deodorant, tampons, baby lotion and shampoo, phone cards, diapers, new bed pillows, and new undergarments for both women and children.
"The event is inclusive and acknowledges that violence strikes all sexes, genders, and sexual orientations," Dooley added. "The goal is that MSU members together with the Minot community will promote healing for survivors, and give participants the tools to advocate for a community free from sexual and domestic violence."
This marks the second year Take Back the Night has been sponsored through the MSU Title IX office, but has been a part of the Minot community through the Domestic Violence Crisis Center for multiple years.
For more information on the event, please contact Dooley at lisa.dooley@minotstateu.edu.
About Minot State University
Minot State University is a public university dedicated to excellence in education, scholarship, and community engagement achieved through rigorous academic experiences, active learning environments, commitment to public service, and a vibrant campus life.
---