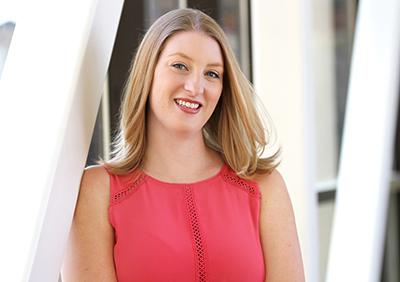 "It was extremely nice to come back to Minot State. Old Main is still the same building and I know my way around. Getting the Bakken U Scholarship made returning to school and getting a finance degree much more obtainable and will help greatly reduce my financial burden."
-- Bakken U Scholarship winner Nicole Walther
University Communications
Walther earns Bakken U Scholarship
MINOT, N.D. – Minot State University student Nicole Walther is one of two individuals who was awarded the Bakken U Scholarship for 2017-18, the North Dakota University System announced.
The scholarship is given through donations from the North Dakota Petroleum Council. Dickinson State's Owen Short was named as the second award winner.
Walther, a Williston native, is currently pursuing a degree in finance. She earned a degree in math in 2012 at MSU and worked for five years for Pilot Thomas Logistics until May 2017 to return to school. During her five years with the company her duties include working with inventory, logistics and customer service. She believes that getting a degree in finance will help her become a more efficient and valuable employee.
"I am hoping with the continuation of my finance degree, I can apply my knowledge of operations to a company that helps balance their needs financially as well as operationally," Walther said. "I want to be able to take the information I've learned in the classroom and utilize it in a functioning form. My dream job is to help establish proper procedures and future planning for companies that works financially, but still helps maintain a strong operational setting."
This marks the second straight year a Minot State student has earned the Bakken U Scholarship awarded by the NDUS and the North Dakota Petroleum Council in the scholarship's three-year history.
Along with Walther's drive to improve her abilities on the job, she indicated a desire to continue to work and live in western North Dakota – and to support the oil industry.
"My family is based out of Williston and I'm proud to say Williston is my home," she said. "In my family, with my brothers and myself, we are fifth generation workers in the oil field, so it's not just a job but a way of life. With Williston being a central hub to the oil field, I am hoping to establish myself within a company to grow and make a permanent home."
Walther is excited to return to Minot State as there is a familiarity with the university and is grateful of the opportunity the Bakken U Scholarship has provided.
"It was extremely nice to come back to Minot State. Old Main is still the same building and I know my way around," she said. "Getting the Bakken U Scholarship made returning to school and getting a finance degree much more obtainable and will help greatly reduce my financial burden."
ABOUT MINOT STATE UNIVERSITY
Minot State University is a public university dedicated to excellence in education, scholarship, and community engagement achieved through rigorous academic experiences, active learning environments, commitment to public service, and a vibrant campus life.
---