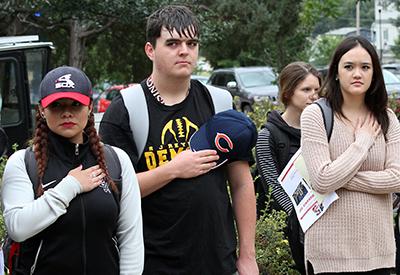 University Communications
Minot State Veterans Services to host two events
MINOT, N.D. – The Minot State University Veterans Services office will host a 9/11 remembrance moment of silence event and will dedicate a POW/MIA table display in the campus dinning facility during the week of September 11-15.
The 9/11 remembrance moment of silence event will begin at 11 a.m. on the quad in front of Old Main at Minot State on Monday, September 11. There will be a timeline handout, short speech and the event will end with a moment of silence.
The POW/MIA table display dedication is set for Friday, September 15 beginning at 10:30 a.m. at the Beaver Creek Café located on the second floor of the Student Center. The table display will reside in the Beaver Creek Café. The dedication will include representatives from Sodexo Food Service, the Minot Air Force Base and Minot State University.
Scheduled to speak at the dedication are Andy Heitkamp, Minot State Veterans' Center Director; Patrick Friley, Sodexo General Manager Food Services at MSU; Chaplain Jason Raines, Minot Air Force Base; and Gary Brekhus, Minot State Veterans Club President.
Both events are free and open to the public. For more information and for parking instructions, please contact Heitkamp at andy.heitkamp@minotstateu.edu or by phone at 858-4002.
ABOUT MINOT STATE UNIVERSITY
Minot State University is a public university dedicated to excellence in education, scholarship, and community engagement achieved through rigorous academic experiences, active learning environments, commitment to public service, and a vibrant campus life.
---