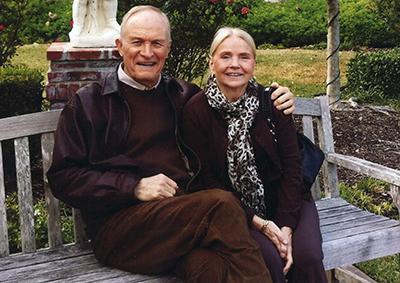 "I received a superior education at Minot State. I am eternally grateful for the excellent instructors and athletic scholarship I received."
-- Dale Brown
University Communications
Dale and Vonnie Brown Scholarship Endowment established at Minot State
MINOT, N.D.
– The Minot State University Advancement Office is proud to announce that family and friends of Dale and Vonnie Brown have established a scholarship in their name.
The scholarship endowment was established by a lead gift of $10,000 by Gary and Connie Tharaldson. The endowment will help incoming freshman at Minot State University who demonstrate financial need and are a resident of North Dakota.
"I received a superior education at Minot State," said Dale Brown. "I am eternally grateful for the excellent instructors and athletic scholarship I received."
Dale and Vonnie (Ness) are both graduates of Minot State as Dale – who earned an impressive 12 varsity letters in football, basketball and track & field – graduated in 1957. Vonnie received a Bachelor of Science degree from Minot State in 1958.
Dale coached several high school sports, including head basketball coach at Bishop Ryan High School in Minot before moving to the college ranks. Following positions at Utah State and Washington State, he became head basketball coach at Louisiana State University in 1972. Over his 25-year career at LSU, Dale led teams to 17 consecutive non-losing seasons and is the third winningest coach in SEC history. He was twice named as college basketball coach of the year.
Since his retirement from LSU in 1997, he has become a successful author and motivational speaker. He is a member of the North Dakota and Louisiana Sports Hall of Fame; the North Dakota and Louisiana Basketball Coaches Hall of Fame; and has been honored as an SEC Living Legend. In November 2014, he was inducted into the National Collegiate Basketball Hall of Fame along with former LSU and NBA player Shaquille O'Neal.
Vonnie taught at Minot State University, Utah State University, Louisiana State University and in secondary schools in California and North Dakota.
She has been professionally active in all aspects of the folk and ethnic dance. Vonnie's work has also been recognized outside the State of Louisiana. In 1986, she received the San Antonio Folk Festival annual award for outstanding contributions in folk and ethnic dance. In 1993, and again in 2003, the National Folk Organization of the U.S.A. honored her. In 1999, Slovakia recognized Vonnie for the work she has done in the preservation and dissemination of Slovak dance and folk culture.
Vonnie served as Vice President and President of the National Folk Organization of the U.S.A. from 1997-2003.
In addition to her professional work, Vonnie has been active in various aspects of community service, serving as a care-giver for AIDS patients, working with the LSU International Hospitality Association, and the Dale Brown Foundation.
To help continue to honor the work of Dale and Vonnie Brown, donations to the scholarship endowment can be made in three ways, either by mail, phone at 858-4158; or online at www.MinotStateU.edu/give.
ABOUT MINOT STATE UNIVERSITY
Minot State University is a public university dedicated to excellence in education, scholarship, and community engagement achieved through rigorous academic experiences, active learning environments, commitment to public service, and a vibrant campus life.
__________________________________________
---