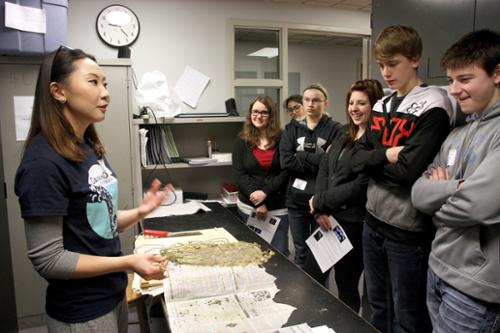 University Communications
Minot State University hosting Science Olympiad
The Division of Science is hosting a regional Science Olympiad Monday (March 13) on the Minot State University campus from 8:30 a.m. until 4 p.m. Middle and high school students from will participate. Team registration is in Ann Nicole Nelson Hall at 8 a.m.
"Minot State's Science Olympiad is one of five regional events in North Dakota, and the winners advance to state competition in April," said Robert Crackel, MSU chemistry associate professor and Science Olympiad regional coordinator.
To date, 17 B-division teams and 12 C-division teams have signed up. Participating schools are Bishop Ryan, Cavalier, Century High School, Des Lacs Burlington, Drake-Anamoose, Erik Ramstad, Garrison, Glenburn, Jim Hill, Minot High School, Nedrose, Rugby, South Prairie, Stanley, United Public #7, and Velva.
Eighteen sessions are planned for each group. Session titles include "Scrambler," "Wright Stuff," "Hovercraft," "Science Crime Busters," "Invasive Species" and "Hydrogeology." 
For questions, contact Crackel at 858-3852 or robert.crackel@minotstateu.edu or JoAnn Schapp, Bishop Ryan Catholic School science teacher and Science Olympiad regional coordinator, at Joschapp@brhs.com.


---