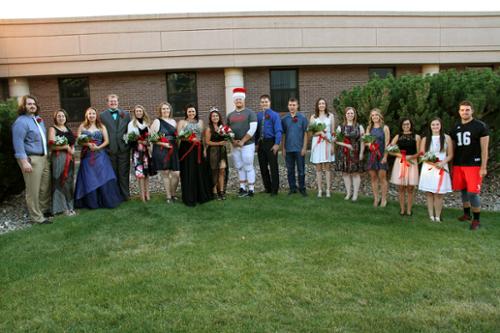 University Communications
MSU Homecoming king and queen named
Minot State University students selected Logan Gunderson and Keyona Walker as the 2016 Homecoming king and queen Sept. 13. Gunderson, a Berthold native, is an accounting and finance major. He represented Student Government Association. Walker, from Minot, majors in early childhood education. She represented MSU Life.

Other members of the Homecoming court (with hometown, major and student organization) are Christina Beck, Saskatoon, Saskatchewan, communication disorders, Honors Society; Zachary Cunha, Rocklin, Calif., physical education and mathematics education, Minot State Club of Physical Educators; Casey Feldner, Burlington, history, Mu Sigma Tau Fraternity; Kjerstie Fevold, Velva, physical education, MSCOPE; Shannon Guinn, Wasilla, Alaska, history education, Beta Theta Sorority; Hannah Harvey, Minot, special education and elementary education, Student Council for Exceptional Children; Jennifer Hayes, Camana Island, Wash., elementary education, Student North Dakota United; Annika Kraft, Minot, chemistry and theatre, Science Club; Miranda Lessmeister, Lake Lenore, Saskatchewan, communication disorders, National Student Speech Language and Hearing Association; Morgan Matejcek, Brocket, general studies, SGA; Laurence Sibley, Glendora, Calif., management information systems, Cru; Cassandra Stauffer, Minot, art education and elementary education, Sigma Delta Sorority; Christopher Stokke, Fargo, elementary education, SNDU; Stephanie Sundhagen, Tioga, chemistry education, Residence Hall Association; Jeremy Toles, Phillsburg, N.J., special education and elementary education, Student Ambassadors.

Pictured, left to right, are Christopher Stokke, Jennifer Hayes, Shannon Guinn, Casey Feldner, Cassandra Stauffer, Hannah Harvey, Stephanie Sundhagen, Keyona Walker, Logan Gunderson, Jeremy Toles, Laurence Sibley, Miranda Lessmeister, Morgan Matejcek, Christina Beck, Annika Kraft, Kjerstie Fevold, Zachary Cunha.
For questions, contact Aaron Hughes, student activities coordinator, at aaron.hughes@minotstateu.edu.


---