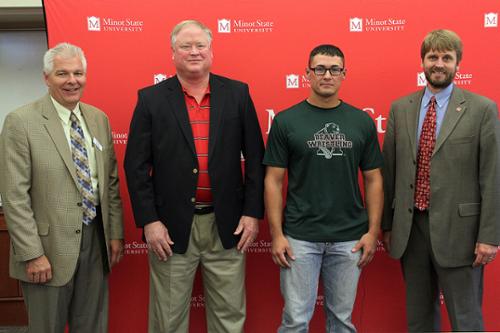 University Communications
MSU student awarded Bakken U Scholarship
Minot State University student, Briley Crissler, is one of two recipients awarded a $5,000 Bakken U Scholarship.
The North Dakota University System and the NDUS Foundation announced the awards Aug. 30. The North Dakota Petroleum Council and the Hess Corporation donated funding for the scholarships. Bismarck State College student Chad Schoch is the other recipient.
Crissler, a Belcourt native, majors in business management. Prior to enrolling at MSU, he worked in the oil industry for Unit Drilling Company and several exploration and production companies, such as Youngquist Brothers Oil and Gas Company. He thanked NDPC, the NDUS Foundation and Hess Corporation for supporting a generous scholarship.
"North Dakota is at the forefront of America's energy revolution, and it is very encouraging to see the university system taking steps to provide programs and resources that promote students in the energy industry," Crissler said. "The Bakken U Scholarship will substantially reduce the cost of my education and provide motivation as I work towards earning my degree."
Dr. Kevin Melicher, a member of both the State Board of Higher Education and the NDUS Foundation, said the students each exemplified the type of candidate the Bakken U initiative aimed to support.
"Both Mr. Schoch and Mr. Crissler showed talent and ambition by enrolling in our campuses to add to their skillsets and education," Melicher said. "We're happy to award these scholarships to them through the NDUS Foundation and to call them students in our system."
"We are glad to be part of this scholarship program," said Ron Ness, NDPC. "It's a great way to encourage our workforce to continue advancing their skillset."
Pictured, left to right, are Bakken U Coordinator Jerry Rostad, NDUS Foundation member and MSU alumnus Jon Backes, Crissler and MSU President Steve Shirley.


---