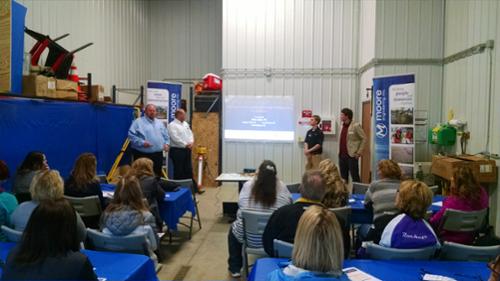 University Communications
Professionals train to bridge gap in high-demand occupations
The North Dakota Career Resource Network recently offered its annual Northwest Region Counselor and Career Professional In-Service at Minot State University. Seventeen counselors and career guidance counselors attended to learn about programs and high-demand occupations in the state and receive updates from the North Dakota Department of Public Instruction. 
"Our focus for the day was really on the high-demand occupations in North Dakota," said Penny Belgarde, northwest region career resource coordinator with N.D. CRN. "It is our mission to help bridge the gap in these occupations, and one way we can do it is by getting the word out to the schools and counselors. They are the ones that work with the high school students every day to assess their skills and interests, and most importantly, help guide them in to their right occupation."
The all-day in-service included presentations from the MSU Native American Center (Annette Mennem), the Department of Teacher Education and Human Performance (Dan Conn), the Dakota Nursing Program (Dawn Rumfo), Electrical Local 714 (Adam Kidwell),  N.D. Career Resource Network and N.D. Career and Technical Education (Marilyn Orgaard and Kelly Pierce).
Participants also toured the Minot office of Moore Engineering, Inc., where five engineers showcased the engineering profession. The presentation defined the profession, provided examples of engineering types and statistics on job placement and salary and showed examples of projects Moore Engineering completed in the region.
"Moore Engineering played a significant role in reaching out to our counselors and providing up-to-date, information and knowledge our schools need to help inform students on what engineering opportunities are available in North Dakota," Belgarde said.
For questions, contact Belgarde at penny.belgarde@dakotacollege.edu.


---