MSU research project selected for N.D. EPSCoR funding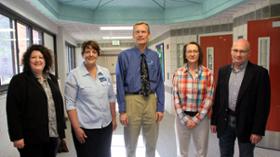 Mikhail Bobylev, Minot State University chemistry professor, was recently awarded a competitive North Dakota Experimental Program to Stimulate Competitive Research seed award to the tune of $100,000. Bobylev's proposal, "Novel Type Sustainable Materials and a Novel Method for their Synthesis" was selected for funding in June 2015 under N.D. EPSCoR's Center for Sustainable Materials Science. Under the current award, $100,000 per researcher over a four year period was extended to North Dakota's four Primarily Undergraduate Institutions.
This is the first time N.D. EPSCoR has partnered with the four PUI's. The N.D. EPSCoR staff toured the PUIs June 2 - 3 to discuss the impact the N.D. EPSCoR funded program is having on each campus.
"This partnership is really about the student side and being able to provide resources to get students engaged, expose them to more and provide greater opportunities," said Jean Ostrom-Blonigen, N.D. EPSCoR project administrator.
"North Dakota has over 15,000 jobs available in the STEM field, and it's important for students to be exposed to the lab work," said Kelly Rusch, N.D. EPSCoR project director and NDSU vice president for research and creative activity. "Whether they apply it to a job they begin after getting their undergrad degree, or if they want to continue their education and get a graduate degree."
"This collaboration also offers opportunities for students to participate in conferences and meetings and matches them up with students from other programs," said Claudia Tomany, NDSU College of Graduate and Interdisciplinary Studies dean. "It reflects well on MSU and helps the students when they apply for a competitive position at graduate school or for a job opportunity."
For questions, contact Bobylev at (701)858-3066 or mikhail.bobylev@minotstateu.edu.
((Photo caption: left to right, Claudia Tomany, Jean Ostrom-Blonigen, Scott Hanson, Kelly Rusch and Mikhail Bobylev))
About Minot State University
Minot State University is a public university dedicated to excellence in education, scholarship, and community engagement achieved through rigorous academic experiences, active learning environments, commitment to public service, and a vibrant campus life.
---