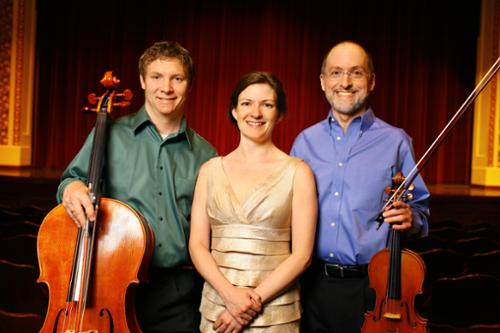 University Communications
Dakota Chamber Music celebrates 20th anniversary
The Dakota Chamber Music will celebrate its 20th season June 20-26. The institute brings professional artists together with talented and motivated students and adults for intensive performance and study. Minot State University's resident trio, Luminus, forms the core of the 2016 DCM faculty. Erik Anderson, cello, Dianna Anderson, piano, and Jon Rumney, violin, comprise the trio.
"This is our 20th anniversary year, and we dedicate this week of music making in celebration of the life and legacy of Lynne Rumney, who founded DCM with her husband, Jon," said Erik Anderson, professor of music. "Each year, it is a thrill to see their dream come alive once again in our halls and on our stage."
Each year, DCM draws 40-50 musicians, high school through adult, who play strings, piano, winds and brass. It is by audition only and is coordinated by the MSU Division of Music.
Faculty concerts are on June 20 and 24 at 7:30 p.m. The June 20 concert features guest artists Beo, a Pittsburgh string quartet with two Minot State graduates, and the Ying Quartet, an ensemble with a distinguished international career and direct ties to the first years of DCM. Admission is $10 for adults and $5 for students.
Concerts by DCM students are June 20 at 4 p.m., June 21 at 11 a.m., June 25 at 7 p.m. and June 26 at 1 p.m. Admission is free.
All concerts are in Ann Nicole Nelson Hall and are open to the public. For questions, contact Anderson at 858-3576 or erik.anderson@minotstateu.edu.
---