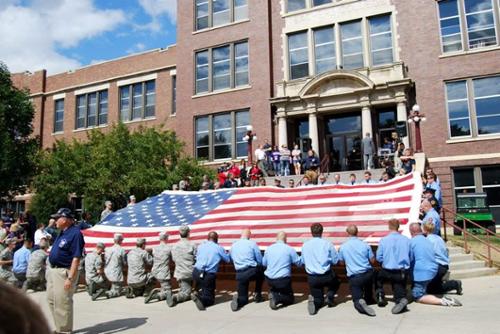 University Communications
Fallen heroes to be honored by Minot State Veterans Center
The Veterans Center will honor veterans Friday (May 27) with a search-and-discover-fallen-heroes mission on the Minot State University campus and in First Lutheran Church Cemetery. Interested participants should meet near the flagpoles in front of the Student Center shortly before 10 a.m.
Those unable to attend the event may conduct their own search-and-discover mission at three Minot cemeteries, First Lutheran Church Cemetery, Rosehill Cemetery and Sunset Memorial Garden, by going to the Veterans Center webpage, http://www.minotstateu.edu/veterans. Click the "Search and Discover Mission" link for instructions on how to conduct a search-and-discover mission along with answers to questions about veterans buried in the cemeteries.  
"If people want to pay tribute to area veterans this Memorial Day weekend, here is an opportunity for families and individuals to learn more about those who served in the U.S. Armed Forces to help preserve the freedoms everyone enjoys today," said Andy Heitkamp, Veterans Center director.  
For questions, contact Heitkamp at andy.heitkamp@minotstateu.edu.


---