Largest gift in Minot State history will support Severson Entrepreneurship Academy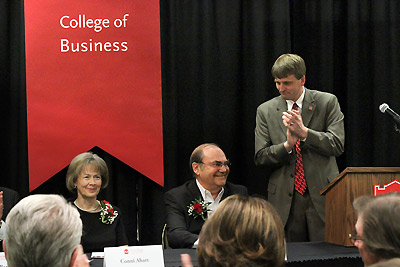 The Minot State University College of Business announced a milestone gift today (Feb. 9) of $2 million from alumnus Clint Severson and Conni Ahart. This is the largest gift in Minot State's history and will endow the entrepreneurship program.
Severson is chairman of the board and chief executive officer of Abaxis, a medical devices company based in northern California. He is the 2007 Forbes Entrepreneur of the Year and a 1973 alumnus of then Minot State College.
"When we made our first gift six years ago, I looked at all the possible organizations that I would consider worthwhile investments, Minot State rose to the top, and that has proven to be true," Severson said. "Our initial investment in the university created a new academy aimed at promoting entrepreneurship and building better business leaders for the present and future. This $2 million gift will enable the academy to continue expanding its work and guarantee the future of entrepreneurship at Minot State."
"Clint and Conni truly put students first through their generosity," said Steven Shirley, Minot State president, "And every decision they make regarding their support always starts with the question, 'How will this positively impact and be beneficial for MSU students?' Simply put, Clint and Conni genuinely care for our students and alumni, and their financial commitment is unparalleled in the long history of Minot State University."
The Severson Entrepreneurship Academy engages students from multiple disciplines, not just business fields. Students from non-business fields like history, broadcasting and art bring their skills and viewpoints to projects
"Art students, for example, bring a different way of thinking to the group," said Chuck Barney, Severson Entrepreneurship Academy director. "The synergy of different groups working together really brings different perspectives to the groups."
The Severson Entrepreneurship Academy provides unique opportunities for both students and the community. It uses existing College of Business courses to teach multi-disciplinary classes related to the creative process of building a business. Within the structure of the Entrepreneurship Club, students help write, analyze and evaluate business plans, both those from students and from community members. The club also gives seed money to those student business plans that are exceptional. This provides young entrepreneurs with an authentic experience to begin their own business ventures. In addition, a resource center related to the needs of entrepreneurs and a speaker series are part of the Severson Entrepreneurship Academy.
The university will apply for a $1 million matching grant from the North Dakota Higher Education Challenge Grant Program.
"To see a business start from the ground up and take part in the decisions that make it a success is such a gift," Layne Pfliiger, MSU student, said. "Nobody could have dreamt of this if it weren't for Clint and Conni's generosity and confidence that this academy would give all of us, an unforgettable, unrivaled university experience."             
About Minot State University
Minot State University is a public university dedicated to excellence in education, scholarship, and community engagement achieved through rigorous academic experiences, active learning environments, commitment to public service, and a vibrant campus life.
---