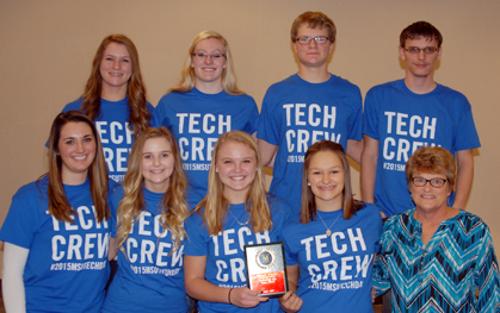 University Communications
Area students compete at Technology Day
High school students from across the area competed Dec. 3 in the Minot State University Department of Business Information Technology's 18th annual Technology Day.
Students competed in accounting, business law, desktop publishing, document production, business principles, spreadsheet applications and presentation software. Participating high schools were Berthold, Bowbells, Burke Central, Des Lacs-Burlington, Kenmare, Powers Lake, Sawyer, Stanley, Surrey, TGU Granville, TGU Towner, Underwood and Westhope.
Winners at the event follow:
Accounting:
3rd place—Jared Halvorson, Stanley
2nd place—Disa Koppelsloen, Burke Central
1st place—Eden Johannes, Underwood
 Business Communication:
3rd place—Ryan Nesheim, Stanley
2nd place—Madison Holm, Underwood
1st place—Lindsey Vangness, Berthold
 Business Law:
3rd place—Ashlee Bower, Surrey
2nd place—Kaleb Larson, Sawyer
1st place—Thomas Heidelberger, Underwood
 Desktop Publishing: 
3rd place—Lexi Vandegraft, Bowbells
2nd place—Brook Blom, Burke Central
1st place—Lindsey Landenberger, Underwood
 Document Production:
3rd place—Aleta Gamble, Burke Central
2nd place—Heidi Knutson, Bowbells
1st place—Harley Eckert, Powers Lake
 Introduction to Business:
3rd place—Tanner Net, DesLacs Burlington
2nd place—Matt Patten, Stanley
1st place—Lexi Mahlum, Bowbells
 Spreadsheet:  
3rd place—Joshua Kihle, Burke Central
2nd place—Danielle Halstead, Underwood
1st place—Sydney Pabian, Berthold
 Presentation Software:
3rd place—Robert Cooper, Burke Central
2nd place—Delaney Clark, Powers Lake
1st place—Taryn Schmit, Bowbells
Sweepstakes Team Award:  Underwood High School.
Instructor:        Julie Driessen
Students:          Eden Johannes, Madison Holm, Thomas Heidelberger, Lindsey Landenberger, Brooke Weisenberger, McKenzie Snyder, Dani Halstead and Devyn Schmitcke
The event was coordinated by the Business Information Technology Department, Minot State business education students, Terry Van Berkom, Aaron Lake, Savana Kingsbury and Mickenzie Czech, and business teacher education and Tech Day coordinator, Jan Repnow.
In the front row, left to right, of the photo of the Underwood team are Madison Holm, Lindsey Landenberger, Mackenzie Snyder, Brooke Weisenberger and Julie Driessen. In the back row, left to right, are Danielle Halstead, Eden Johannes, Thomas Heidelberger and Devyn Schmitcke.


---