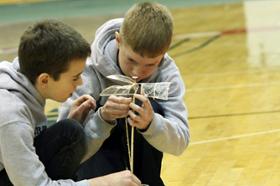 University Communications
Minot State hosting Science Olympiad
The Division of Science is hosting a regional Science Olympiad March 16 on the Minot State University campus from 8:30 a.m. until 2 p.m. Middle school and high school students from area schools will participate. Team registration is at 8 a.m. in Ann Nicole Nelson Hall.
"Minot State's Science Olympiad is one of five regional events in North Dakota, and the winners advance to state competition in April," said Robert Crackel, associate professor of chemistry.
To date, nine middle school teams and 14 high school teams have signed up. Over 30 sessions are planned for the two groups. Titles include "Robo Cross," "Science Crime Busters," "Meteorology," "Mission Possible," "Can't Judge a Powder" and "Dynamic Planet." For questions, contact Crackel at 858-3852 or robert.crackel@minotstateu.edu.


---