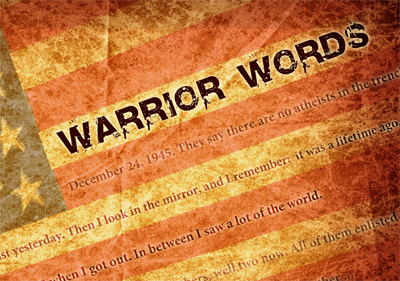 University Communications
Warrior Words II: Veterans of U.S. wars to present monologue writing
Jan. 13 in Minot State University's Aleshire Theater at 7:30 p.m., veterans of U.S. wars will present work they completed in "Warrior Words," a monologue-writing workshop offered by The Greater Grand Forks Community Theatre in four North Dakota cities. Conrad Davidson, MSU College of Arts and Sciences dean, taught the Minot workshop, which consisted of six sessions. Minot presenters include Mike Carswell, Myron Dammen, Charley Epperson, Orlan Hall, Tim Knickerbocker, Lucille Loftesnes, Larry Schoenwald, Alan Waller and Max Zurcher. The event is free and open to the public. 
"We expected stories about sacrifice, but there was also humor, as veterans from various generations and branches of service shared their experiences," Davidson said.  
Warrior Words was open to veterans of any American war or conflict who had an interest in creating work based on their experiences as soldiers. The workshops were funded in part by the North Dakota Humanities Council, a nonprofit, independent state partner of the National Endowment for the Humanities. Additional support was provided by Minot State. For questions, contact Davidson at 858-3159 or conrad.davidson@minotstateu.edu.


---