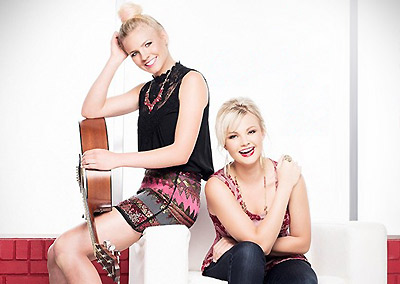 University Communications
Tigirlily to perform at Minot State
Minot State Athletics has reached an agreement with modern country-pop group Tigirlily to perform a full concert following the conclusion of the Minot State men's and women's basketball games against Augustana College on Jan. 31 in the Minot State Dome. The group will also perform the national anthem at the beginning of each game.

Tigirlily is composed of two lead vocalists, Kendra and Krista, who are natives of Hazen, N.D. and they're accompanied by their three person band. The group's popularity has reached significant heights recently with their hit song "North Dakota" compiling nearly 300,000 views on YouTube in just over a year. Their album "Victory," which was released in June 2014, was charted at No. 33 in the Top Country Albums on iTunes and at No. 4 on Billboard Heatseekers – West North Central Region.

The group most recently performed in Minot at the North Dakota State Fair back on July 24.

The women's basketball game on Jan. 31 is set for 4 p.m. while the men's game is locked in for a 6 p.m. tip-off. Tigirlily is estimated to perform around 8:30 p.m.

Tickets for the basketball games include admittance to the full concert following the conclusion of the men's game. Normal ticket rates including free admission for Minot State students, faculty and staff apply until the beginning of the second half of the men's basketball game. Thereafter, tickets will cost a flat rate of $10. Season ticket holders' tickets are valid for both the game and concert as well.

Also available for purchase is the Beaver Family Four Pack which includes two adult tickets, two children tickets, four soft drinks and four hot dogs for just $30.

Exclusive tickets for the just the Tigirlily concert will go on sale Monday, Dec. 29th and can be found at msubeavers.com/tigirlilyatmsu.

Seating for the concert will be general admission with access to the floor beginning shortly after the men's basketball game. The concert stage will be on the north end of the MSU Dome just beyond the end of the basketball court.

Like Minot State University Athletics on Facebook, follow MSUBeavers on Twitter and Instagram and use the hashtag #TigirlilyatMSU to join the conversation and potentially win free tickets and VIP backstage passes throughout the next month and a half.

For more ticketing or further information, visit msubeavers.com/tickets or contact the Minot State Athletics office at 701-858-3041.
---