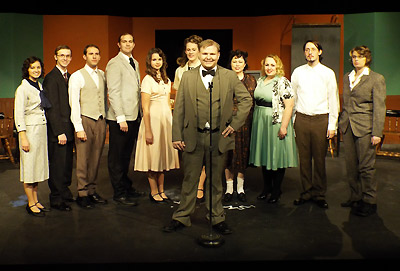 University Communications
MSU Campus Players presents 'It's a Wonderful Life: A Live Radio Play'
Minot State University's Campus Players presents "It's a Wonderful Life: a Live Radio Play" Thursday – Saturday, Dec. 11-13 at 7:30 p.m. and Sunday, Dec. 14 at 2 p.m. in the Aleshire Theater in Hartnett Hall. A toured performance of the production will be held for the students of TGU Granville School on Friday, Dec. 12 at 1 p.m.
It's Christmas Eve on the radio broadcasting set of WBFR in New York City in this beloved American holiday classic. "It's a Wonderful Life; a Live Radio Play," was adapted by Joe Landry from the screenplay by Frances Goodrich, Albert Hackett, Frank Capra and Jo Swerling, directed by MSU senior, Jason Gaarder and presented by special arrangement with Playscripts, Inc.
"It's engaging to watch this hilarious and clever holiday classic transform onstage from a feel good radio station telling a beautiful story to something a bit more," said Gaarder. "My wish is that the audience connects with the highs and lows of every character and walks away from the production happier because of it."
The production is a salute to the broadcast performances of live radio shows from the 1940s, complete with live commercials. An ensemble cast brings to life a few dozen characters as the story of an American dreamer, George Bailey (Joshua Snyder,) unfolds one fateful Christmas Eve. The production is complimented by a sound effects artist (Branden Evans) who blends everything from door slams, car horns and ringing bells to accentuate the action on stage.
George Bailey is a man who has given up on his own dreams in order to help others, and just when he stands at the precipice of throwing in the towel on everything in life, his guardian angel, Clarence (Annika Kraft,) in a bid to get her wings, intervenes. It's up to Clarence to show Bailey how very different life would in Bedford Falls if he had never been born; reminding Bailey, "…no man is a failure who has friends."
A special "benefit night" will be held on Saturday, Dec. 13 with donation proceeds going to the Homeless Coalition of Minot. Donations of non-perishable canned goods will be collected at the door and will be redeemable for a discounted $3 ticket on Saturday night. However, in the spirit of the season, we will be collecting donations throughout the run of the production.
For tickets, contact the Aleshire Theater box office at 858-3172. Ticket prices are $6 for adults, $5 for seniors and students under 18. Reservations are encouraged.
---