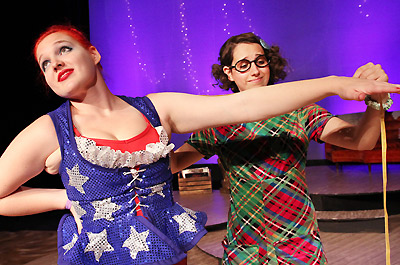 University Communications
'The Miss Firecracker Contest' lights up MSU's stage
Minot State University Theatre Arts Program presents Beth Henley's "The Miss Firecracker Contest" Oct. 14-18 in Aleshire and Black Box Theaters at 7:30 p.m. Doors will open at 7 p.m.
Aili Smith, associate professor of communication arts, directs this tale of a young woman's quest to find redemption in her small community of Brookhaven, Miss. Carnelle Scott (Emily Taylor), an orphan who was raised with her genteel cousins, enters the Miss Firecracker Contest in what she believes is her last chance to outshine her reputation as "Miss Hot Tamale," but her promiscuous past may derail her one chance to escape her small town blues.
The colorful cast of characters includes her cousins Elaine (Erin Kampen), the former pageant winner, and Delmount (Jason Gaarder), the eccentric sociopath; Popeye (Megan Wolf), the seamstress; ex-lover Mac Sam (Cole Anderson), the balloon man; and pageant coordinator Tessy Mahoney (Krys Zorbaugh.)
"As a director, I am attracted to this play because of how Beth Henley wrote comedic elements interwoven with the heartbreaking, disastrous characters and events," Smith said "Each character has a 'checkered past' but continues to pursue their dreams. It is this pursuit and reaching beyond the norm that makes the audience empathize and understand each character's future action."

Robert Hubbard, MSU alumnus and 2014 Academic Hall of Fame inductee, will be recognized Oct. 17 before the performance starts.
For tickets, contact the MSU theater box office at 858-3172. This is a $5 general admission production with limited seating. Free for MSU students, faculty and staff with current MSU ID. Reservations are strongly encouraged.


---