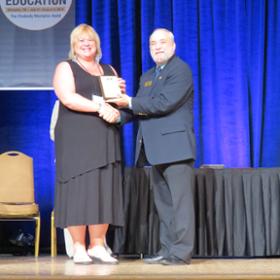 University Communications
Sovak recognized as distinguished geography educator
The National Council for Geographic Education awarded its K-12 Distinguished Teaching Award, which honors excellence in geography teaching at the primary and secondary level, to Ragene "Jeannie" Sovak. Sovak, an 8th grade American history teacher at Minot's Jim Hill Middle School, received recognition during NCGE's annual conference. 
"Jeannie was chosen for her geography teaching skills, leadership, innovation, ability to support students in and out of the classroom, and her dedication to life-long professional development," said Marilyn Weiser, North Dakota Geographic Alliance executive director.
Many of her students remember "The Family Tree Project," a classroom project that Sovak orchestrates each year. While learning how their families took part in the history and development of the United States, students develop skills, such as communication, organization, writing, researching and the creation of maps and a timeline.
Sovak is a long-time NDGA member and has been a co-facilitator of GeoFIT (Forestry Institute for Teachers), a popular professional development program. After attending her first GeoFIT, she suggested that NDGA add a writing component to a four-day institute that is a classroom on wheels. A charter bus takes teachers on a field trip that rotates around the state's four regions.
"Her success is evident in the cooperation and engagement that she elicits from participants representing all areas of the curriculum," Weiser said. "Jeannie's journal writing activities throughout the GeoFIT adventure fit perfectly under the umbrella of the Common Core Standards of Literacy in Social Studies."
Sovak received her bachelor's and master's degrees from Minot State University.
NCGE is an international nonprofit organization, chartered in 1915 to enhance the status and quality of geography teaching and learning. It supports geography teaching at all levels, from kindergarten through university. To learn more about NCGE, visit http://www.ncge.org/. NDGA is housed on Minot State's campus. 



---