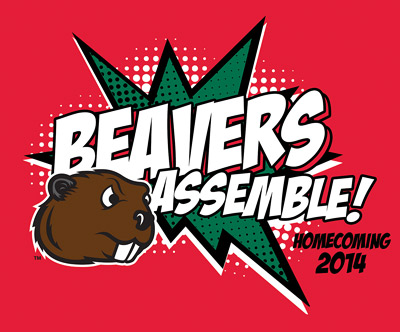 University Communications
MSU Homecoming 2014: 'Beavers Assemble!'
Minot State University continues its tradition of excellence as it enters its second century and 85th Homecoming, which centers on the theme "Beavers Assemble!" Homecoming Week officially kicks off Sept. 21 and runs through Sept. 27.
For the entire community, MSU hosts the Community Block Party Sept. 23, 5-7:30 p.m., on the Old Main lawn. The Block Party, which is free and open to the public, promises family fun and entertainment for all ages. There will be free food (while it lasts), bounce houses and assorted kids' activities, door prizes and music by the MSU Jazz Band and Marching Band, and musician Jason LeVasseur. Homecoming coronation at 7 p.m. on Old Main's steps caps the evening festivities. In case of inclement weather, all activities will move to the Dome.
To honor donors to the university, the Office of the President will host a President's Club Luncheon Sept. 24.
Sept. 25, recipients receive the highest honor bestowed by the MSU Alumni Association at a banquet in the Conference Center at 6 p.m. Brenda Foster, Darwin Langseth and Tim Mihalick are the 2014 Golden Award recipients, while Kent Kirkhammer will receive the Young Alumni Achievement Award. Banquet tickets are $30 and can be reserved by calling 858-3373 by Sept. 22.
Sept. 25, the community is invited to attend a performance by Josh Vietti, an American violinist and composer, in Aleshire Theater at 7 p.m. Although generally billed as a hip-hop violinist, Vietti also incorporates gospel, country, pop, jazz and classical music and styles into his repertoire. This concert is free and open to the public.
Sept. 26, the Homecoming Alumni Reunion, open to all MSU alumni and friends of the university, will convene at the Holiday Inn, 7 p.m. This year, special reunion groups include communication disorders and business education alumni and the '64 and '65 baseball teams.
Homecoming reaches its apex Sept. 27 with the Homecoming Parade at 10:30 a.m. The parade route travels downtown Main Street, Central Avenue and north on Broadway to its final destination in the Dome parking lot.
A tailgate party will follow in the Dome's east lot. The MSU Beavers face off against Wayne State College in football at Herb Parker Stadium, 2:30 p.m. During halftime, the Homecoming Royalty and the '64 and '65 baseball teams will be introduced.
For more information, visit the Homecoming Week website or call student activities at 858-3987, advancement at 858-3373 or athletics at 858-3041.     
---