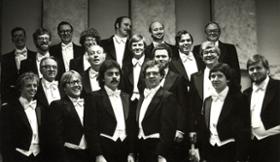 University Communications
History students to give Digital Minot presentations at Festival on Main
Digital Minot Project student interns from Minot, Emily Anderson, Zachary DeMers and Jordan Peterson, will present their research Aug 23 at the Taube Museum at 11 a.m. Their presentations on MSU Summer Theatre, the Heritage Singers and pioneer female teachers are free and open to the public and will be part of the Downtown Minot Association's Festival on Main.
The three students researched their topics this summer as part of Digital Minot Project, which is sponsored by the Department of History at Minot State University. This project provides an opportunity for student interns to investigate local history topics, and then use that research to give public presentations and create online exhibits which remain available for public viewing and response long after the students have completed their work.
Anderson, a senior at Minot State University, studied the history of the Heritage Singers, the well-known male chorus, which is celebrating its 40th year. She will graduate in December with a bachelor's degree in history. While at MSU, she has been active in several student organizations, including the History Club, Beta Theta Sorority, the Student Government Association and the North Dakota Student Association.
DeMers explored the history of Summer Theatre, which just completed its 49th season.  He will graduate in May 2015 with bachelor's degrees in broadcasting and history. He plans to attend graduate school with the intention of ultimately working at a university. A member of Phi Alpha Theta, the National History Honor Society, DeMers has also helped to reinstitute Catholic Campus Ministry on the campus.
Peterson, a junior, examined the history of women pioneer school teachers in the northern plains during the early 20th century, with an emphasis on North Dakota. The history major is currently a member of both the National Honor Society as well as Phi Alpha Theta.
Bethany Andreasen, professor of history, created "Digital Minot: An On-line Museum of Local History" in 2012. To engage student research more wholly with MSU's surrounding communities, Andreasen proposed that student historical projects and materials should be digitized and made accessible to the public.
Digital Minot students collaborate with local agencies and take Minot's history out of closets, storage rooms and boxes, uploading materials and records spanning more than a century to display the region's vibrant past on the Web. Through Digital Minot, the public has access to historical photos, postcards, newspaper articles, advertisements, scholarly journals, legal documents, oral histories and biographies.
 "As part of the Digital Minot Project, university students engage in professional practice of their historical research and writing skills through an interactive project with individuals from the region in which they live, thus increasing their awareness and understanding of the distinctiveness and development of the region," Andreasen said.
---