University Communications
Westlie estate benefits three community organizations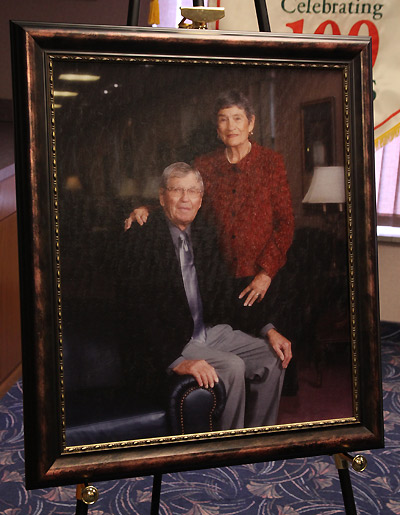 The Minot State University Development Foundation, Bishop Ryan Catholic School Foundation and the Høstfest-Heritage Foundation announced a significant gift received recently from the estate of Chuck and Madge Westlie, whose generosity will help the community continue to grow.
"We are fortunate to have had Chuck and Madge Westlie in our lives. Their attitude was: We will always try to do our part," Minot State University Development Foundation President Maynard Sandberg said. "They helped so many people and organizations, and through thoughtful planning on their part, their attitude and legacy will go on forever."
Chuck Westlie, a Minot native, was president and general manager of the family business, Westlie Motor Co. and was also the chairman of the board.
Madge Westlie was born near Karlsruhe and was married to Chuck for 67 years.
The Westlies were deeply involved in community and regional affairs, supporting a number of foundations and charities through the years.
"Bishop Ryan Catholic School is very fortunate to be one of the many recipients endowed by the philanthropic spirit of Chuck and Madge Westlie," Bishop Ryan High School Superintendent Terry Voiles said. "The Westlies shared a vision for the Minot community that was well-rounded and far-reaching, and Catholic education was an important part of that vision. Pope Francis said, 'Charity, patience and tenderness are very beautiful gifts.  If you have them, you want to share them with others.' This charitable gift from the Chuck and Madge Westlie estate mirrors the message of Pope Francis and largely enhances our ability to expand and renovate our school facility.  Consequently, and more importantly, it helps us in our ability to expand and improve what we can offer our students relating to the best Catholic education possible and our commitment to Catholic values, academic rigor and service."
"On behalf of the Høstfest Heritage Foundation, I thank the Chuck and Madge Westlie family for their generous gift," Norsk Høstfest President David Reiten said. "To be chosen as a beneficiary honors not only the missions of Norsk Høstfest and Scandinavian Heritage Association but the efforts of the countless individuals who dedicate time and energy to their existence. The Høstfest Heritage Foundation was founded as a means of ensuring the preservation and growth of Scandinavian heritage and culture in North America through the annual Norsk Høstfest … and as stewards of this tremendous gift, we pledge to follow the model of growth and excellence championed by the Westlie family as we put it to use."
Madge passed away in January 2010, and Chuck passed on October 2011.
For questions, contact Marv Semrau, vice president for advancement, at marv.semrau@minotstateu.edu or 701-858-4483.
---