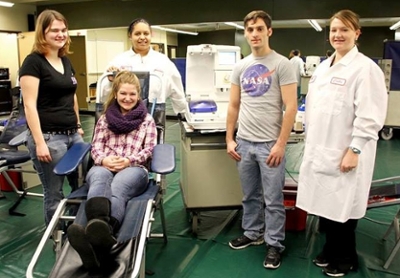 University Communications
MSU Greek Life and American Red Cross partner on blood drive
The Beta Theta Sorority, Sigma Delta Sorority and Mu Sigma Tau Fraternity of Minot State University will sponsor a blood drive Jan. 24 in the Group X Fitness Room (Student Wellness Center, first floor) from 10 a.m. to 2 p.m. It is a fun and convenient way to donate blood, get blood pressure, temperature, pulse, hematocrit and cholesterol checked and possibly save someone's life, all in less than an hour.
"American Red Cross' blood supply is low because of the holidays and our extremely cold weather. So, this is the first blood drive that all Greek Life are joining forces and making sure it is a big hit," said Shelby Lee, Beta Theta philanthropy chair. "We all believe it is important to give back to the community and what better way to give back than by also saving lives."
Appointments are suggested, but walk-ins are welcome. Appointments can be made by Lee at contacting shelby.lee@my.minotstateu.edu.
---