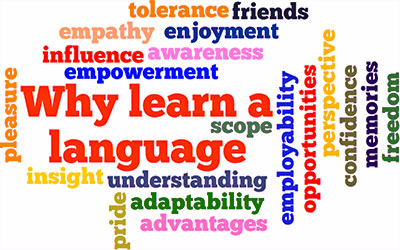 Welcome
Thank You, Gracias, Merci, Danke, Gratias, Diolch, Go Raibh Math Agat for visiting our site. Everything about courses, programs, faculty, and clubs is a click away to your left.

FALL 2021 COURSE OFFERINGS!!!

FREN 101  Beginning French I - MWF 1:00-1:50   (L. Mondon)
FREN 201  Intermediate French I - MWF 2:00-2:50 (L. Mondon)

GERM 101  Beginning German I - MWF 11:00-11:50  (JF Mondon)
GERM 201  Intermediate German I - MWF 12:00-12:50  (JF Mondon)
SPAN 101  Beginning Spanish I - MWF 10:00-10:50  (Rammell)
SPAN 101  Beginning Spanish I - MWF 12:00-12:50  (Rammell)
SPAN 201  Intermediate Spanish I - MWF 11:00-11:50  (Rammell)
SPAN 220  Hispanic Cinema - W 4:00-6:50 (Rammell)
UNIV 110  Artificial Languages - TBA (JF Mondon) - Part of an FYE
The World Languages and Linguistics program at Minot State University seeks to promote an appreciation for the rich linguistic diversity in the world by inviting you to partake in its vibrant tapestry.  Along with strengthening your mental acuity, the study of another language offers a hands-on way to experience another culture.  Since the two - language and culture - are impossible to separate, learning to express yourself in a different language enriches your view of the world and deepens your understanding of its inhabitants.  Upon completing the concentration (101, 102, 201, 202), you should be at the intermediate proficiency level of the ACTFL scale (https://www.actfl.org/sites/default/files/CanDos/Can-Do_Benchmarks_Indicators.pdf).  If you decide to minor, you can anticipate being at the advanced level of the same scale.
Our linguistics coursework also offers you the opportunity to scientifically study the nature of language, initiating you into exciting current research, foundational theories of the field, and even providing you the opportunities to engage in research yourself!  
We offer a surprising array of languages for a university of our size. Come and explore for yourself!
Dual Language Major: equivalent to a minor in two different languages
Minors: French, German, Spanish
Concentrations: French, German, Latin, Linguistics, Spanish
Other Languages Occasionally Taught: Classical Greek, Irish, Ojibwe, Portuguese, Swahili, Welsh  
contact: jeanfrancois.mondon@ndus.edu