File, folder, and page management
In addition to the basic pages you'll edit in cascade, you also have files. Files can be images, PDF documents, Excel spreadsheets, Power Points, and any other items you might embed or link to in a page. In this section, we'll look at naming files and using folders to organize them. Moving files, renaming files, deleting, and editing images will be covered in other sections.
File Names
File and page names should be concise, lengthy names will be harder to work with later. Special characters should not be used except for dashes and under scores in place of spaces. Special characters may may cause the CMS to freeze or reject your file or page. Examples:
BAD: Class of 2019 grads 00263 #(edited).jpg
GOOD: 2019-grads.jpg
Folders
By default, your site should have an "_images" and a "_documents" folder. These folders serve to house these items so as to not clutter up your base folder. Having ten to 20 pages in your base folder is manageable, but if all of your files were placed there it would turn into an ever growing issue to sort through every time you wished to update anything.
Likewise, some sites may have large collections of documents and images. For these situations it may make sense to add sub folders within these folders. For example, you may have a collection of forms and policies in PDF format. A folder for each category can be created in the "_documents" folder.
To add a new folder: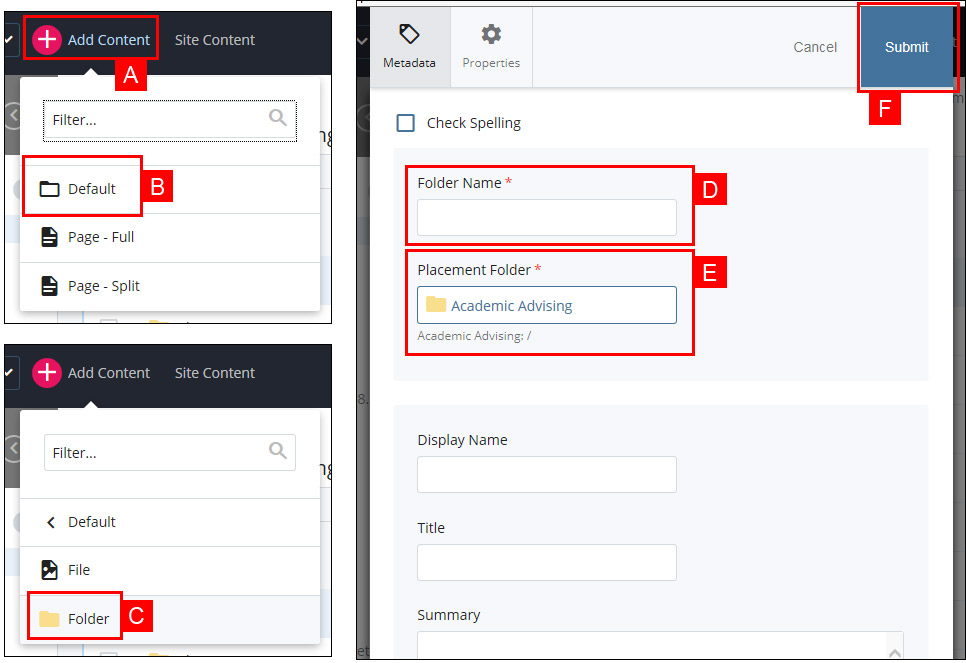 Click on the "(+) Add Content" link in the top left region of Cascade
Choose the folder marked "default" from the menu options
Choose folder
Give it a name following the naming conventions discussed above
Carefully choose a placement folder
Choose submit and follow the prompts
Pages
Pages in the root folder of the site are used by Cascade to generate the site's navigation links. Most larger websites will have a folder labeled "_pages" that contain additional website pages that aren't used in the navigation.
Additional folders can be created within the "_pages" folder or in the root folder for more granular sorting by content. If created in the root folder and not part of the site's navigation, the folder will need "indexing" unchecked under the configuration tab while in edit mode. If this is not done, it will showup as part of the sites navigational links.