Office of International Programs
Chloe Ondracek, Budapest, Hungary: Spring 2017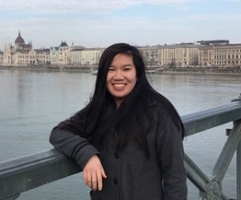 Minot native Chloe Ondracek is a study abroad alum two times over. Ondracek took her study of mathematics overseas to Moscow,Russia in the spring of 2016 only to return in the spring of 2017 for a new adventure in Budapest, Hungary. After several trips overseas to continue her undergraduate studies, you're probably wondering: what is it about studying abroad that keeps her coming back for more? We had the opportunity to interview Chloe and hear some of her thoughts about why she thinks studying abroad is so valuable and why she continues to travel! 
Q: You studied abroad in Moscow during the entire 2015-16 academic year and now you're headed to Budapest in spring 2017. What was it about your previous experience that made you want to go abroad again? 
A: During my time studying in Moscow I learned so much both inside and outside of the classroom. My experiences helped to broaden my view of the world we live in. Naturally, there were challenges but the reward was priceless. At the end of the year I had gained friends, independence, knowledge, and memories I'll treasure all my life. If my time in Budapest is even a fraction as fun and fulfilling then it'll be time well spent.   
Q: What was the hardest thing about your first study abroad experience? What was the best thing about it?
A: Both the program I did in Moscow and this one in Budapest are specifically for high-level mathematics. The program is set up for everyone to be able to do okay but I had to learn to thrive as a small fish in a large pond – to remain positive, focus on my own progress, and not practice unhealthy competitiveness. But the most rewarding part followed directly from the above challenge.  The grades I earned in Moscow were tangible evidence of the work I had put into proving my ability to my teachers, peers, and most importantly myself. The confidence I gained will impact me professionally and personally for a long time to come.   
Q: How do you see your study abroad experiences elevating your career in mathematics? 
A: Mathematicians are lucky and have a lot of opportunities when pursuing a career. The next step [for me] is graduate school and my study abroad experiences have prepared me as best as possible for the next stage of my career. Clearly through the coursework I completed, but also through the general study habits I developed and the connections I made within the math community.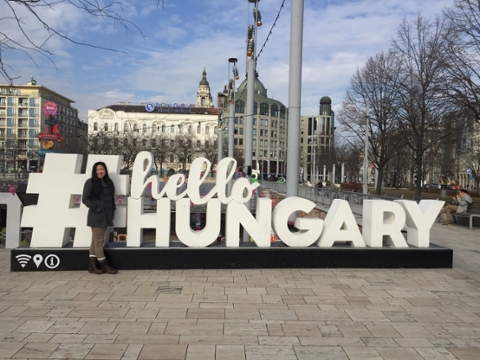 Q: What's one "bucket list" item you hope to check off during your time in Budapest?
A: Honestly, just going to a new place is something I always dream about. Visiting each of the seven continents is on my bucket list, and although I've already been to Europe I certainly haven't seen all it has to offer. I'm planning to travel around Europe some during the semester as well, time permitting, so maybe I'll get to check off a few new countries! 
Q: In your opinion, what do you think students will gain by studying abroad that otherwise cannot be taught at a university in their home country?
A: I think an important skill to have in life is adaptability. Living and studying abroad really helps you prepare for the unexpected.  Sometimes things we think are a given aren't necessarily so in another country. For example, in Russia clothes dryers are a luxury and certainly aren't found in dorms or hotels. From an academic standpoint, homework isn't considered all that important and the majority of your grade is based off the midterm and final exams. And obviously to learn to thrive in unfamiliar situations, one must leave home. 
Q: What advice would you offer a fellow college student that is contemplating study abroad, but isn't 100% sold yet?
A: There are many factors to weigh when considering a study abroad program. The process may seem overwhelming, the prospect of living and studying in a new country may seem daunting, but in the end the hands-on experiences are totally worth it.    
Find out more about Minot State University's non-affiliated study abroad programs here.