Office of International Programs
Molly, Harstad, Norway, Spring 2013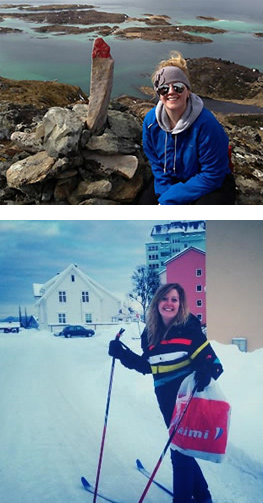 Molly, a senior double majoring in Elementary and Special Education kicked off the 2013 year with an ambitious New Year's resolution. She aimed to not only complete her second study abroad session since beginning her college career, but also to participate in a practical training experience at the same time. "I was lucky enough to have already had the opportunity to study in Australia for a semester and when I heard about the fully funded scholarships available to study in Harstad, Norway, I couldn't pass up the opportunity and had to apply," explained Molly.
Molly was one of two MSU students chosen to receive a High North Fellowship Grant from Harstad University College during spring semester 2013. Through the program, grant recipients have the once-in-a-lifetime opportunity to broaden their expertise within their academic discipline, as well as gain valuable practical experience in an international setting. 
After being awarded the scholarship, Molly began her six month journey. Most of her time abroad was spent in the city of Harstad, a seaside town of 23,000. "While I was there, I spent 450 hours student teaching 8th, 9th and 10th graders with disabilities. It was challenging because it was very different, but it helped me to adapt to new environments, as well as accept other people and ways of life." While the work may have been challenging, the oceanfront view from her student flat, the mild winter weather, and observing the vibrant Northern Lights on a regular basis were not.
Being a native to the small town of Hingham Montana, Molly has made great efforts to become more aware of the world in general, as well as different ways of life. Her time spent in Norway enhanced these efforts and gave her first-hand experience of both student and professional life in another country.
Learn more about the opportunity to study in Harstad, Norway!