Office of International Programs
Brenden, Harstad, Norway, Spring 2012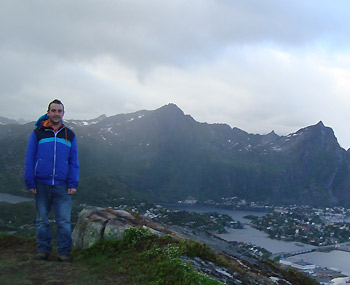 Brenden, a native of Carberry, Manitoba in Canada, recently became the first Minot State University student to study at Høgskolen i Harstad (HiH) above the arctic circle in northern Norway.
During the spring 2012 semester, Brenden completed his Social Work practical field placement by working with children with disabilities in the Harstad community at two different schools. During his time abroad, he was also able to complete his remaining degree requirements and maintain the vital working relationships with his classmates and faculty advisors back in Minot through IVN (Interactive Video Networking).
The study abroad program in Harstad allowed Brenden to have the unique opportunity to learn about the field of social work in Norway and how their practice of social work differs from the United States and Canada.  "I was definitely looking forward to doing my profession in another culture to see how things work over [in Norway], comparing them to how things work [in the U.S.]," he explained. "I wanted to see [Norway's] techniques and how they go about things, especially with the theories they use."
Check out Brenden's firsthand experiences in Harstad on his blog: brendenbertrand.blogspot.com or learn about how you can study abroad in Harstad, Norway.