Semester at Sea: Semester Voyage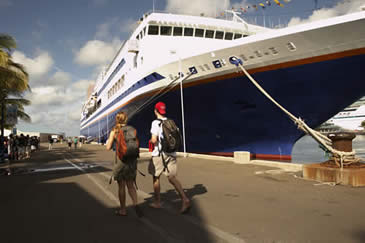 Multiple Destinations
Program Dates:
Fall: late August to mid-December
Spring: early January to late April
» Program home page
» Information for Admitted Students
Semester at Sea is a unique and valuable educational experience that results in tangible personal and professional benefits. The opportunity to see the world aboard a state-of-the-art floating university academically sponsored by Colorado State University is a truly remarkable opportunity.
Semester at Sea equips students with the global understanding necessary to become prepared future leaders and global citizens. This program integrates comparative experiential study, interdisciplinary coursework, and relevant field labs in multiple countries. While traveling and studying onboard our unique shipboard campus, students discover opportunities to engage with people from cultures far different than their own.
---
Program Features: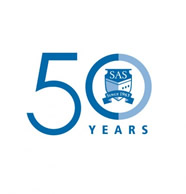 Location: This program has no fixed location as it takes place aboard a "floating university," sailing from country to country! The World Odyssey is a modern and safe passenger ship that circumnavigates the globe twice a year and explores a world region each summer. Complete with a student union, wireless Internet, library, and many of the amenities you'd find on a land-based campus, the ship functions as both a traveling university and residential home to more than 2,000 participants each year.
Language: Courses are offered in English. You will encounter a number of languages as you visit the countries on the itinerary.
Program Provider: Semester at Sea (SAS) is one of MSU's affiliated study abroad providers that has been chosen specifically for the quality and credibility of their academic offerings, affordability, and the level of service provided to participants. Semester at Seas is a program offered by the non-profit Institute for Shipboard Education.
Upcoming voyages: Program dates, destinations and courses offered will vary depending upon the voyage you choose.
Program Cost: Tuition and fees will be paid directly to Semester at Sea, and a single course fee of $50 will be paid to MSU.
Current program fees and what's included, financing your program, and scholarships can be found on the Semester at Sea website.
Areas of Study: Classes are offered for a variety of studies and degrees, with a focus on global comparative education.
Every class requires a field lab, which is an in-country educational experience that will take place in one of the ports along the voyage; field labs are designed and led by the professor and are directly related to the coursework. Field Labs and their respective assignments are a required part of each course and constitute approximately 20 percent of a student's grade.
Global comparative education is a form of international study that identifies and connects the world's peoples, patterns, cultures, and traditions. Semester at Sea has served as a pioneer and leader in multiple-country, comparative education for nearly 50 years.
SAS tries to offer some of the same standard courses on every voyage. The specific courses that will be offered during your voyage can be found under the "courses and field labs" tab on that particular voyage's web page.
* While preparing to study abroad, students should consult their academic advisor for assistance in choosing the most appropriate courses for their degree program.
See a list of courses that have been pre-approved to replace MSU degree requirements or electives.

Housing: Students live in residence halls referred to as "seas" with residence directors available to help students in getting to know their environment and in starting nearly any student organization or activity. Student cabins are fully-equipped and furnished, including beds, bathroom, desk, storage space, bedding, a small refrigerator, and more. Rooms are shared between 2 – 4 students.
The ship has many amenities including two dining halls that serve breakfast, lunch, dinner and a late night snack, a piano lounge/coffee bar which is a great place to hang out and grab a snack, workout and wellness centers, a library stocked with helpful resources for courses as well as information for upcoming ports, a computer center to help with internet and intranet issues, the campus store where students can purchase class or personal supplies and, of course, Semester at Sea apparel and the outside decks where one can look out across the great seas and enjoy the pool.
Bringing the SAS Experience to Life!
---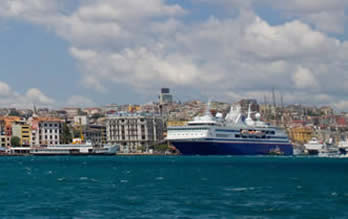 How to Apply
Application Deadline:
Fall Semester – February 15th
Spring Semester – September 15th
Eligibility: Degree-seeking undergraduates, with sophomore status and at least 2.75 GPA (cumulative).
Application Procedure:
Step 1: Review SAS's Application Checklist
Step 2: Submit a completed MSU Study Abroad Application to the MSU Office of International Programs by February 15th
Step 3: Receive letter of acceptance to study abroad through MSU from the MSU Office of International Programs
Step 4: Create an account on Semester at Sea's website and apply online* making sure to follow all instructions and program requirements.
Step 5: You will receive notification of your final acceptance status from Semester at Sea. If admitted, complete the process outlined below along with any other instructions you receive from Semester at Sea.
* Semester at Sea operates on a rolling admissions basis, meaning there are no application deadlines for specific semesters. However, it is recommended that you begin the application process 12 months before the semester in which you would like to participate.
Contact Information: StudyAbroad@MinotStateU.edu
---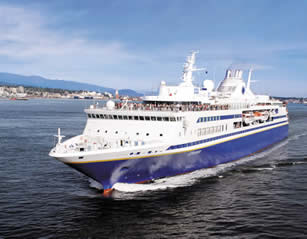 Information for Admitted Students
* Although we make every attempt to keep this information up to date, please defer to information provided to you directly from Semester at Sea as the best resource. If there are discrepancies between the protocols listed here (applying for housing, getting registered for courses, etc.) and those told to you by Semester at Sea, default to those of Semester at Sea. However, health insurance requirements, course equivalencies, credit transfer and grading are determined solely by MSU.
Information for accepted students: Access your Semester at Sea "MyPassport Account" to find important information and requirements to aid you in your preparations for your program. Also, check out the Student Life aboard the ship and the Voyager's Handbook for important information that will help you prepare for your program!
Apply for student housing: Follow the instructions you receive directly from Semester at Sea regarding cabin options.
Visa: Terminology note: the words 'visa,' 'residence permit' and 'study permit' are used interchangeably to describe the document that authorizes a person to enter or leave the country for which it was issued.
Information about your Required Travel Documents will be obtained through SAS. Refer to the information provided on your MyPassport account for detailed instructions, as well as any additional visa requirements or changes.
Planning your travel: Wait to make your travel arrangements until you have received guidelines from Semester at Sea regarding official arrival dates and times, as well as dates of your final port.
Academic Information: Students are required to register between 12 – 15 credit hours (4 – 5 classes). Lower division courses are designated with 1000- and 2000-level course numbers. Upper division courses are designated with 3000- and 4000-level course numbers. Course registration will take place online via your MyPassport page.
Each voyager will choose only one Global Comparative Lens course that best matches their academic interests, and the remainder will be chosen from regular course offerings. The Global Comparative Lens courses are designed to help students deepen their understanding of specific features of life and culture in the countries visited during the voyage- focusing on art, music, religion, politics, environment, health, or another particular aspect.
Students incorporate their in-port experiences into their classes in a comparative learning environment. Every class requires a field lab, which is an in-country educational experience that will take place in one of the ports along the voyage; field labs are designed and led by the professor and are directly related to the coursework. Field Labs and their respective assignments are a required part of each course and constitute approximately 20 percent of a student's grade. The cost of required Field Labs is included in voyage tuition.
For the remaining time in the ports, students can take advantage of a wide array of field excursions arranged by the Semester at Sea field office in coordination with their trusted tour and excursion in-country providers. Before each port, all students, faculty and staff participate in a pre-port logistical and cultural presentation which covers safety and health information, travel guidance and cultural details to help students get the most out of every experience.
Semester at Sea students are enrolled as visiting students of Colorado State University and receive an official transcript from Colorado State University upon completion of the program.
Global Health Insurance: Insurance coverage is critical in obtaining medical assistance abroad, and the coverage you'll need on your study abroad program differs from what most domestic insurance policies offer.
Health and Safety are number one priorities at Semester at Sea. As a member of the inter-organization task force on health and safety, The Institute for Shipboard Education (ISE) assumed a leadership role in the formation of standards of health and safety in the field of study abroad. They go to great lengths to ensure everyone has access to excellent medical care by providing premium travel health insurance to all participants as part of their program fee.
Learn more about SAS's health, safety, and security policies and procedures.
  Last updated Nov. 3, 2016