The Florence School of Fine Arts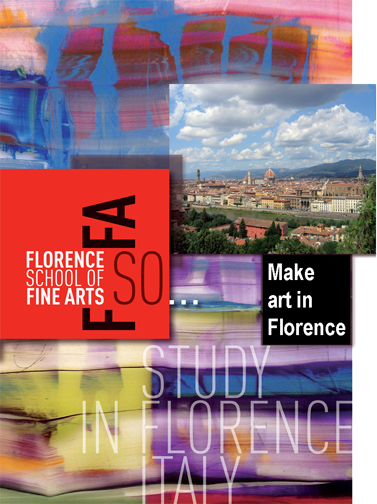 The Florence School of Fine Arts (FSFA) provides a unique study abroad experience. It is a contemporary and dynamic program that offers accredited courses in studio art, art history, humanities, and Italian culture and language—most of which are not currently offered at MSU. This program allows students to participate in the rich cultural life of Florence while developing a deep understanding of Italian art and culture.
Want to learn more?
Frequently Asked Questions:
All classes are instructed in English. Italian is the official language in Florence. Approximately 30% of the Italian population speaks English.
FSFA offers an extensive and specialized selection of art classes not typically offered in the other study abroad programs. Students may choose to do undergraduate art coursework in printmaking, painting, drawing, book arts, video, photography, graphic and digital design, and performance and installation art. Classes are available from beginning to advanced levels, and all courses are instructed in English.
See a list of courses that have been pre-approved to replace MSU degree requirements or electives.
Speak with your academic advisor to get their help in choosing the most appropriate courses to while you are abroad.
Your course load for a spring or fall semester will typically consist of two to three studio art classes and one or two academic classes like Art History or Italian Language. One of the benefits of studying at FSFA is the hands-on approach.
Students can expect to earn 12-15 credits during spring or fall semesters, and 3-6 credits during a summer program.
The grades you receive at the Florence School of Fine Arts will be evaluated according to World Education Services (WES) grading standards published on the WES website and converted to an equivalent U.S. grade. Conversions can be accessed by selecting ECTS from the drop-down box.
For an additional fee, students can purchase a lunch meal plan with a local cafe across the street from FSFA. The plan includes 14 weeks of lunch for 5 days a week. Students will have the choice of salad, pasta, sandwiches, and soup. This option also includes water and bread with sit-down service. This plan can be purchased by the student once in Florence.
Tuition and fees will be paid directly to the Florence School of Fine Arts, and a single study abroad fee of $50 will be paid to Minot State.

Refer to the FSFA Website for additional program cost information.
Your completed Minot State Study Abroad Application and all supplemental documentation must be submitted in one packet to the Minot State Office of International Programs by the appropriate deadline.
Summer Programs: March 15
Fall Programs: March 15
Spring Programs: October 15
More information on how to start your application to study abroad.
You will need a passport. If you do not already hold a passport, you should apply for one now. If you do have a passport you should check its expiration date. Your passport needs to be valid for six months beyond the end of the semester in which you enroll.

Students studying at FSFA for a full semester must apply for an Italian student visa. Please follow the instructions given by the FSFA program coordinator. For specific information on obtaining a student visa for your semester abroad at FSFA, please visit their website.

You do not need a student visa to participate in the FSFA summer program because your stay in Italy will be less than 90 days.
Last updated March 24, 2023 (ml)