The Florence School of Fine Arts (FSFA) in Florence, Italy
Program Dates:
Fall: September - December
Spring: January - April  
Summer: 4 weeks in June 
Program Type: Partner Provider School
» FSFA Website
The Florence School of Fine Arts (FSFA) provides a unique study abroad experience. It is a contemporary and dynamic program that offers accredited courses in studio art, art history, humanities, and Italian culture and language, most of which are not currently offered at MSU. This program allows students to participate in the rich cultural life of Florence while developing a deep understanding of Italian art and culture. 
---
Program Features:
Location: Florence, Italy - FSFA is located in a historic neighborhood in the heart of Florence, Italy.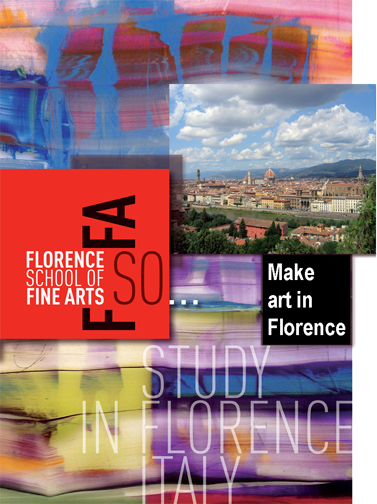 Language: All classes are instructed in English. Italian is the official language of Florence, however, approximately 30% of the Italian population speaks English. 
Program Type: Partnership Program. Students will pay all program fees directly to FSFA via wire transfer. 
Areas of Study: FSFA offers an extensive and specialized selection of art classes not typically offered in the other study abroad programs. Students may choose to do undergraduate art coursework in printmaking, painting, drawing, book arts, video, photography, graphic and digital design, and performance and installation art. Classes are available from beginning to advanced levels, and all courses are instructed in English. 
Search for courses that will be offered during your semester abroad.
See a list of courses that have been pre-approved to replace MSU degree requirements or electives.
* While preparing to study abroad, students should consult their academic advisor for assistance in choosing the most appropriate courses for their degree program. Students will work with the Study Abroad Coordinator to complete the course substitution/equivalency process prior to going abroad. 
Housing: FSFA provides student housing for all program participants. Students will be offered housing in an apartment setting with multiple occupancy bedrooms. Each bedroom has 2 beds, tables with lamps, and dressers. The apartments are fully furnished with fully equipped kitchens, a washing machine, internet access, pillows, sheets and blankets. Participants must provide their own towels. All housing assignments are provided upon arrival in Florence. 
Optional Meal Plan: For an additional fee of 350 Euro, students can purchase a lunch meal plan with a local cafe across the street from FSFA. The plan includes 14 weeks of lunch for 5 days a week. Students will have the choice of salad, pasta, sandwiches, and soup. This option also includes water and bread with sit-down service. This plan can be purchased by the student once in Florence. 
 Want to Learn More?
» Visit the Florence School of Fine Arts (FSFA) website. 


---
How to Apply
Application Deadline: Fall and Summer Semesters - March 15;  Spring Semester - October 15
Application Procedure:
Step 1: Submit a completed MSU Study Abroad Application to the MSU Office of International Programs by Sept. 15th (Spring programs) or February 15th (Summer and Fall programs). 
Step 2: Receive letter of acceptance to study abroad through MSU from the MSU Office of International Programs
Step 3: By the appropriate deadline (listed above), complete the online FSFA application. 
Step 4: You will receive an acceptance notification from FSFA informing you of your final acceptance status. Once admitted you will then begin to work on your Visa application (Spring and Fall programs), financial aid/scholarship applications, and submit a $700 non-refundable program deposit. 
Eligibility: Undergraduates, with sophomore status (24 credits completed) and at least a 2.5 GPA (cumulative)
Contact Information: Kaitlyn Anderson, Study Abroad Coordinator: studyabroad@minotstateu.edu
---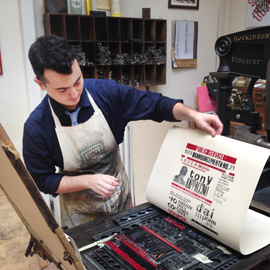 A student engaging in a studio art class at FSFA.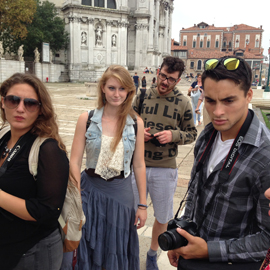 FSFA students exploring Venice, Italy. 
Information for Admitted Students
* Although we make every attempt to keep this information up to date, please defer to information provided to you directly from the host institution as the best resource. If there are discrepancies between the protocols listed here (applying for housing, getting registered for courses, etc.) and those told to you by your host institution, default those of the host institution. However, health insurance requirements, course equivalencies, credit transfer and grading are determined solely by MSU.
Visa: Terminology note: the words 'visa,' 'residence permit' and 'study permit' are used interchangeably to describe the document that authorizes a person to enter or leave the country for which it was issued.
Information about your student visa: All students going to FSFA for a full semester must apply for a student visa. Please follow the instructions given by the program coordinator at FSFA. For specific information on obtaining a student visa for your semester abroad at FSFA, please visit their website. 
Planning your travel: Wait to make your travel arrangements until you have received guidelines from FSFA regarding official arrival dates and times, as well as dates of your final exams at the end of your program. 
Health Insurance: Insurance coverage is necessary for your study abroad program and differs from what most domestic insurance policies offer. To address these special needs, the Office of International Programs has identified an affordable and comprehensive international health and travel policy through Cultural Insurance Services that all MSU study abroad students participating in a partner program must purchase. Instructions on how to register and make payment will be provided by the Study Abroad Coordinator during your pre-departure orientation meeting.
Academic System: Your course load for a Spring or Fall semester will typically consist of two to three studio art classes and one or two academic classes like Art History or Italian Language. One of the benefits of studying at FSFA is the hands-on approach. 
Students can expect to earn 12-15 credits for Spring or Fall semesters, and 3-6 for a Summer semester. 
Grading: Scores received at the Florence School of Fine Arts (FSFA) will be evaluated according to World Education Services (WES) grading standards published on the WES website. Conversions can be accessed by selecting ECTS from the drop-down box.
*All photos courtesy of http://www.theflorenceschool.it
Last updated March 2018