Office of International Programs
London, Paris & Rome June 6-16, 2011
→ Learn more about Horizons Unlimited faculty-led study tours
Explore London, Paris & Rome!

This program will allow students to explore the history, art, and architecture of three of Europe's most noteable cities. What a better way to experience the culture of England, France, and Italy than by visiting new sites, meeting new people, and tasting new foods of these distinct countries? Throughout the tour, participants will explore the richness and diversity of European culture while enjoying a variety of new and exciting experiences.
Application Deadline: December 1, 2010
Download an application. If you do not already have a passport, now is the time to apply for one.
* Late applications might be accepted after December 1st, depending upon available space. Applicants who submit and application after this date are not guaranteed a spot and might be required to pay a slightly higher program fee due to rate fluctuation in transportation costs. Rate increases are typically not significant.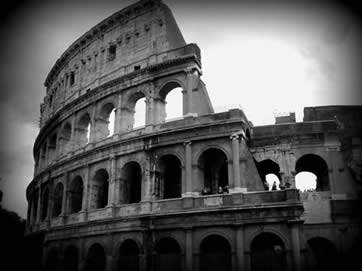 Photo: Coliseum in Rome taken by Ashley Krosbakken,
Radiologic Technology major at MSU
Academic Course Work
Participants of this study tour are required to be enrolled in Humanities 496: London, Paris & Rome Study Tour (3 credits.) The tour will be led by Dr. Andrea Donovan, Assistant Professor of Art History and Humanities, who specializes in European art and architectural history.
In order to be eligible for summer term financial aid, students must be enrolled in a minimum of 6 summer credits. At least 3 of these credits must be from the course listed above. Students who wish to enroll in additional summer coursework in association with the tour may make arrangements with the faculty leader.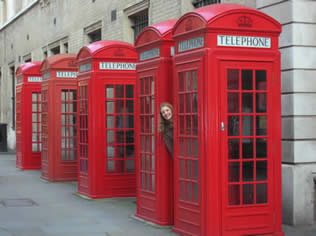 Tour Highlights
London is the first stop on this tour. In London, destinations will include Piccadilly Circus, Trafalgar Square, Westminster Abbey, Hyde Park, the Big Ben clocktower, the Houses of Parliament and St. James's Palace. Optional excursions in England may include the British Museum, Windsor Castle, and the London Eye. In addition, plenty of time is reserved for individual site-seeing, which may include a shopping visit to Harrods or a show at one of the many notable theatres in London.
After spending three days in London, participants will board the Eurostar, Europe's quarter-mile long high-speed train that takes passengers below the English Channel and resurfaces in France in only three hours.
Once in Paris, participants will see many of the most notable sites in the city, including the Champs-Élysées, the Eiffel Tower, the Place de la Concorde, and the legendary Notre Dame Cathedral. Optional excursions in France may include the Palace of Versailles, Monet's Giverny, and Auvers-Sur-Oise. In addition, plenty of time is reserved for individual site-seeing, which may include the many parks, restaurants, and shops in Paris or even a cruise down the Seine in the evening.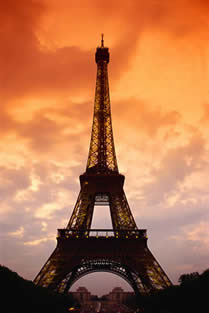 After three days in Paris, participants will transfer to the Paris airport for a short flight to Rome. Once in Rome, participants will visit the Colosseum, the ruins of the Forum Romanum, and other notable Roman sites. Optional excursions may include Vatican City, the Roman Catacombs, and Pompeii. In addition, plenty of time is reserved for individual site-seeing, which may include the many wonderful restaurants and museums in the city.
A typical day will involve sightseeing and local excursion starting early in the morning and lasting all day. The tour may be fast paced at times so that you get the most of your time abroad.
This study tour is being facilitated by Go Ahead Tours. A complete itinerary can be found on the Go Ahead Website. Please note that prices advertised on the Go Ahead website is the base price and do not reflect departure from Minot, and other considerations.
Note: One of the benefits of this particular tour is that tour participants have large blocks of time at each destination to explore parts of the cities either on their own or in our group. In addition, a tour extension allows participants to extend their stay in Rome by two days. This option could open options up for travel outside of Rome to other Italian destinations.
Program Fees
The program fee covers: round-trip international airfare and transfers, including the Eurostar and the flight from Paris to Rome, breakfast daily and some dinners, hotels, entrance fees, guided sightseeing and walking tours, and a 24-hour on-site Tour Director. NOTE: Accommodations are double and triple occupancy; single occupancy may be requested for an additional fee of approximately $550.

Items not included in the program fee are: lunches and some dinners, optional excursions, transportation for free-time activities, departure fees (i.e. airline luggage fees) and customary gratuities.    
Program Cost
Base Program Fee
$ 3,908*
Tuition - 3 Credits
$ 725**
TOTAL
$ 4,633
* Applicants between ages of 50-64 years of age at time of travel, add $100 for the added cost of international insurance. Applicants between ages of 65-74 years of age at time of travel, add $286 for the added cost of international insurance. 
 
**Community members and students may choose to audit coursework at 50% tuition rate. Financial Aid is not available for audited courses, and grades will not appear on transcripts. 
Payment Deadlines:
$400 due with the Application
March 10
June 8
Late Payments:
If a payment is received 7 business days or more after the payment due date, your application will be considered withdrawn and you will be responsible for any cancellation penalties.
If for any reason your payment cannot be processed, a fee of $50 will be incurred, plus a late payment penalty to Go Ahead Tours, if applicable.
Payment Policies:
Under no circumstances will a student be allowed to depart on the program unless the program fees are paid in full.
MSU is not responsible for delays caused by late passport applications, late visa applications or visa denials. Any additional costs incurred for such reasons will be the responsibility of the participant.

Transportation Deviation Fees

: Transportation will be arranged from Minot. Any deviations or special requests (such as early departure or late returns) will incur a $75 booking fee, in addition to any fees charged by the airlines.
Cancellation & Refunds
Withdrawal from the program is effective on the date that written notification is received by MSU's Office of International Programs.
| If you withdraw: | The cancellation fee will be: |
| --- | --- |
| After Application is submitted | $400 |
| After March 10th | $550 |
| After April 8th | $1100 |
| After May 3rd      | Refund of tuition fees only |
| After departure | No refund |
Please Note:
■ MSU will not alter its payment and/or cancellation policies for any reason.
■ GoAhead Tours offers three different levels of trip cancellation/interruption coverage for an additional fee, which can be added at any time prior to departure. These insurance options can protect you in the event you need to cancel your trip or leave your tour unexpectedly due to an emergency. Depending upon the level chosen, coverage includes: trip cancellation & interruption protection; medical & accident protection; and baggage & property protection. For more information, visit the Go Ahead Tours website.
Financial Aid
Financial Aid can be applied to cover study tour fees, so students might want to consider the possibility of obtaining Financial Aid (generally including loans) to assist in funding their program. For more information about this option, please visit the Financial Aid Office, call (701) 858-3375 or visit their website: www.minotstateu.edu/finaid 
Program Rules
→ View MSU Study Abroad Program Rules
→ View Go Ahead Tours Terms and Conditions
Contact us for more information!
Dr. Andrea Donovan
andrea.donovan@minotstateu.edu
Phone: (701) 858-3819

MSU Office of International Programs
2nd Floor Student Union Building
500 University Ave West Minot, ND 58701
Phone: (701) 858-4155