Annual Recognition Awards for 2019-2020
---
Minot State University honored its 2019-20 Board of Regents Faculty and Staff Achievement Awards award winners at the conclusion of the academic year.
Faculty Achievement Awards
This program was established in 1985 by the Burlington Northern Foundation. In 1990 the Board of Regents established a second award and now solely supports the awards to recognize outstanding university teaching. The intent of the award is to recognize, reward, and motivate excellence in teaching, scholarship, and service.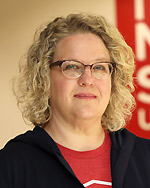 Holly Pedersen - Scholarship
Dr. Pedersen is an MSU alumna and associate professor who currently serves as chairperson for the Department of Special Education. Her additional responsibilities include program director for the department's graduate program and the BAS in interpreting and sign language studies. Pedersen has over 25 years of experience working with children and youth with disabilities, specifically with children who are Deaf or hard of hearing. Pedersen's research interests include the role of fathers in families of children with disabilities, interdisciplinary practices, and rural education issues. She has published and presented work on these topics at various national and international professional conferences in Italy, Norway, Austria, and Portugal. Originally from Saskatchewan, Pedersen lives in Minot with her husband, Scot and their three daughters Camryn (21), Carleigh (17), and Chayse (13).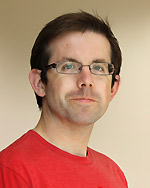 Jean Francois Mondon - Scholarship
Dr. Mondon has just completed his 10th year at Minot State University. He's an East Coast transplant from Philadelphia originally, where he stayed and studied historical and theoretical linguistics at the University of Pennsylvania. Since coming to Minot State he has created pedagogical materials for dead Indo-European languages, resulting in the publication of four books (three on Latin, one on Classical Armenian) and a manuscript for a fifth (Middle Welsh) which he hopes to publish later this year. He has more recently written a pair of articles dealing with the moribund Celtic language, Breton, which was the native language of many of his great aunts and uncles from his mother's side. Mondon has also collaborated with Dr. Joseph Eska of Virginia Tech on some issues of Classical Greek phonetics as well as problems related to the Old Irish verb. He has done some fieldwork with Dr. Olav Hackstein of LMU Munich on the "Pennsylvania Dutch" language spoken by the Amish in Lancaster County, Pennsylvania.
Staff Achievement Awards
The Board of Regents Staff Achievement Award was established in 1991. The Board of Regents established the award to recognize university staff members for outstanding service to the University and the community.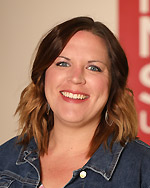 Lindsey Benson - Financial Aid
Benson is the assistant financial aid director and is currently on her ninth year at MSU. She graduated from Minot State in 2008 with a bachelor's degree in business management and marketing. She has been involved on several committees both on campus and representing herself and Minot State on the state and regional financial aid organizations. She is currently serving as treasurer - elect for RMASFAA which is the regional financial aid organization serving eight states and will serve as MSU Staff Senate president for the 2020-2021 year.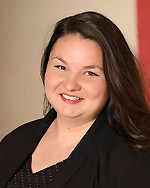 Aaron Hughes - Student Activities
Hughes is completing her eighth year as the Student Activities Coordinator at Minot State University where she promotes a vibrant campus community through the coordination of hundreds of social events for Minot State students each academic year.
She is a 2012 graduate of Minot State University with a bachelor's degree in graphic Design and minors in marketing and management. She advises MSU Life and Student Government Association and serves on numerous campus committees including the Diversity Council, Marketing Committee, and the Student Welfare & University Affairs Committee.
In addition to working at Minot State, Aaron owns a photography studio in Minot with a fellow Minot State graduate that captures memories for hundreds of families and newborns each year. Hint of Whimsy Photography also regularly donates time and talent to area businesses and service organizations such as Women United, Optimist Club, and Magic City Discovery Center.
Aaron and her husband of nine years, Jordan, have a five-year-old son, Graham, who loves to come to "Beaver School" and makes friends on campus wherever he goes.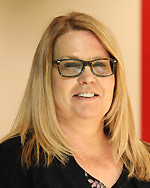 Lori Braasch - Residence Life and Housing
Braasch, administrative assistant in residence life, started with Minot State in January 2009, working in the business office until moving to residence life in 2014. She and her husband, Jody, have been married for 31 years, have one son, Dylan, a grandson, and a granddaughter. She and her husband own B&B Insulation in Minot. In her spare time, she enjoys spending time with her family at their cabin exploring the outdoors and going to junk fests with her sister and friends.
Retirees

| | | |
| --- | --- | --- |
| Mary | Smith | Nursing |
| Larry | Chu | Math & Computer Science |
| Leslee | Thorpe | Teacher Education & Kinesiology |
| Niki | Roed | Nursing |
| Linda | Petterson | Nursing |
| Judy | Swanson | Nursing |
| Chris | Keller | Biology |
| Brenda | Roedocker | Nursing |
| Catherine | Haarstad | NDCPD |
| Toni | Schwartz-Johnson | Biology |
| Robin | Wagner | Business Office |
Years of Service
5 Years of Service
Thomas
Barnes
Facilities Management
Evan
Borisinkoff
Special Education
Joseph
Collette
Science
Daniel
Conn
Teacher Education and Kinesiology
Rebecca
Daigneault
Addiction Studies/Psych/Social Work
Dana
Dannewitz
Business Office
Renee
Duncan
Nursing
Sherry
Filler
Addiction Studies/Psych/Social Work
Evan
Forde
Athletics
Shaun
Hill
Safety & Security
Jharna
Khyer
Safety & Security
Kelli
Marchand
Financial Aid
Luther
Olson
Math & Computer Science
Gary
Orluck
Safety & Security
Thomas
Rakness
Center for Extended Learning
Melissa
Rowe
Enrollment Services
Steven
Shirley
President's Office
Mark
Singer
Social Science
Leslee
Thorpe
Teacher Education and Kinesiology
James
Tiffany
Facilities Management
 
10 Years of Service
Sarah
Aleshire
Humanities
Tonya
Critz
Financial Aid
Sherri
Giessinger
Facilities Management
Richard
Heit
Marketing
Jynette
Larshus Thompson
Social Science
Michael
Linnell
University Communications
Jeanne
MacDonald
Business Administration
Heather
Martin
Academic Success Center
Daniel
Ngugi
Social Science
Elizabeth
Odahlen
Academic Success Center
Tyler
Schmaltz
ITC
Jessica
Smestad
Honors Program
 
15 Years of Service
Abbie
Baklenko
Nursing
Dean
Frantsvog
Accounting & Finance
Paul
Lepp
Biology
Thomas
Lipsey
Facilities Management
Jolene
Nechiporenko
Library
Deb
Wentz
President's Office
Naomi
Winburn
Science
 
20 Years of Service
Wojciech
Cebulak
Criminal Justice
Terry
Eckmann
Teacher Education and Kinesiology
Patricia
Hunt
Library
Cheryl
Kremer
Music
Deborah
Olson
Addiction Studies/Psych/Social Work
Ernst
Pijning
Social Science
Heidi
Super
Biology
 
25 Years of Service
DeVera
Bowles
Music
Lisa
Haman
ITC
Scott
Muhle
Facilities Management
Cheryl
Nilsen
Math & Computer Science
James
Ondracek
Business Administration
Jon
Rumney
Music
 
30 Years of Service
Evelyn
Klimpel
Academic Support Center
Jane
laPlante
Library
Terry
Wald
Facilities Management
Lorraine
Willoughby
Business Information Technology
 
35 Years of Service
Julianne
Eklund
Business Information Technology
 
40 Years of Service
Teresa
Loftesnes
Marketing
Robin
Wagner
Business Office

Staff Senate High 5 Recipients - April 2019 - March 2020
Staff Senate High 5 Recipients - April 2019 - March 2020

| | | |
| --- | --- | --- |
| Keryl | Lesmann | Power Center |
| Aaron | Hughes | Student Activities |
| Brigittte | Mikula | Center for Extended Learning |
| Paul | Brekke | Wellness Center |
| Lori | Braasch | Residence Life |
| Johnny | Guess | Facilities Management |
| Lisa | Dooley | Title IX |
| Tricia | Tessendorf | Business Office |
| Tonya | Critz | Financial Aid |
| Anne | Nordgaard | Enrollment Services |
| Leon | Perzinski | Student Center |
| Deb | Wentz | President's Office |
Academic Advisor of the Year

| | | |
| --- | --- | --- |
| Christina | Paxman | Broadcasting & Professional Communication |
| Heather | Martin | Academic Support Center |