Annual Recognition Awards for 2016-2017
All Minot State University faculty and staff members were invited and encouraged to attend the annual Employee Recognition and Retirement Event May 10 in Old Main. A social was held in the McFarland Gallery at 3 p.m. and was followed by a recognition program in Ann Nicole Nelson Hall at 3:30 p.m.
Three faculty members, Kristi Berg, Nicola Roed and ShaunAnne Tangney, and two staff members, Andy Heitkamp and Gretchen Ingledue, received MSU Board of Regents Achievement Awards May 10 during Minot State University's annual Employee Recognition and Retirement Event. The awards are as follows:
Faculty Achievement Awards
This program was established in 1985 by the Burlington Northern Foundation. In 1990 the Board of Regents established a second award and now solely supports the awards to recognize outstanding university teaching. The intent of the award is to recognize, reward, and motivate excellence in teaching, scholarship, and service.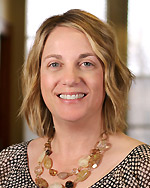 Teaching — Kristi Berg, associate professor of business information technology, has taught at Minot State University since 2001. The MSU alumna always had her sights set on becoming a teacher, but truly found her calling when she had the opportunity to teach at MSU, while obtaining her master's degree. When she began teaching at MSU, the opportunity to teach online was a new venture and one she embraced. Berg has developed and taught both online and campus classes since beginning her career at MSU. In fact, she achieved her doctorate online in 2011. As an online learner, she found she grew as a teacher through practice, research and evaluation. She teaches both undergraduate and graduate classes in the field of information systems. Berg also enjoys facilitating workforce training and development seminars via MSU's Center for Extended Learning.

Berg embraces an active teaching and flip learning style which challenges learners to become better prepared to explore content in greater depth. She uses humor and wit to engage students while they explore the ever-changing field of information systems. Berg serves as a mentor to senior students in the information management information systems program as they prepare to enter the workforce. Her passion for teaching is frequently noted on student evaluations and is evidenced by the steady stream of students visiting her office on any given day. Teaching is her place, the place where she continuously strives for excellence, professional growth and student success.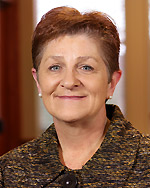 Service — Niki Roed, assistant professor of nursing, has taught at Minot State University and served as the Department of Nursing chair since 2011. Roed serves as a teacher, advisor, mentor, manager and leader for nursing students, faculty and staff.

Roed embraced the challenge of transitioning from nursing practice to academics. Under her leadership, the Department of Nursing received continued North Dakota Board of Nursing approval and continued national accreditation by the Accreditation Commission for Education in Nursing. In addition to her department responsibilities, she served as a member for the University Prioritization and Budget Recommendation Committees. She has also been a member and chair of the Faculty Senate Budget and Salary Committee. Roed is active in the North Dakota nursing community and is involved in the North Dakota Center for Nursing, College and University Nursing Education Administrators, and the N.D. Board of Nursing Education Committee. As a retired military officer, she is also an active member of the VFW and American Legion.

A family that cherishes education, Roed and her husband Dale, Edison Elementary School principal, are both MSU alumni. They have two children, who are MSU graduates as well.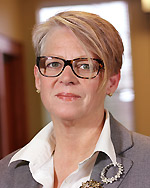 Scholarship — ShaunAnne Tangney is a professor of English at Minot State University, where she teaches American literature, critical theory and creative writing. Her scholarly interests focus on the literature of the American West. She is a noted Robinson Jeffers scholar and has published several essays on the poet and his work as well as a collection of critical essays titled "The Wild That Attracts Us: New Critical Essays on Robinson Jeffers," published by the University of New Mexico Press. She has also published essays and book chapters on, among other things, undergraduate research, flood and flood recovery in Minot, Great Plains literature and aesthetics, film noir and the American Dream, and has work forthcoming on teaching aesthetics and surf noir. Her essay on Montana poet Paul Zarzyski was nominated for the Don D. Walker prize for the best writing on literature of the U.S.West. She has presented at more than 50 academic conferences, most of them at the national level. She is also a poet, and her work has been published in the United States, Great Britain and Australia.
Staff Achievement Awards
The Board of Regents Staff Achievement Award was established in 1991. The Board of Regents established the award to recognize university staff members for outstanding service to the University and the community.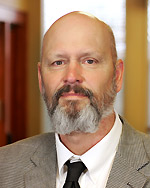 For Andrew Heitkamp, Veterans Center director, April 2017 marks the completion of year three. The center serves as a guide for active duty, transitioning active duty, veterans and military dependents and spouses into the university education system. Center staff strive to ensure those individuals are able to put earned benefits to use in a quality education at Minot State University, providing referrals to academic and financial assistance as well as to physical and mental health well-being support.

Military service, both federal and state, is entrenched in Heitkamp's upbringing. His grandfather was a World War I veteran, his father a World War II veteran, and his brother a Gulf War veteran. He spent eight years serving in the North Dakota Army National Guard 141, being honorably discharged August 1991. The opportunity that he was afforded to serve the North Dakota University System, working with university students over the past 29 years, 26 years in athletics, has fostered many teachable lessons for students, and he has developed many partnerships.

The Mantador native earned his bachelor's degree in physical education from Mayville State. He and his wife, Deb, have three children and eight grandchildren.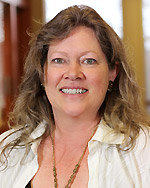 Gretchen Ingledue began her journey at Minot State University Sept. 5, 2006, as an athletic facilities worker at the Dome. Ingledue transferred to the main campus custodial staff April 2007, cleaning in Memorial Hall and the Student Center in the bookstore and the pool and anywhere else she was needed. In April 2010, she became a day team leader and was promoted to custodial supervisor in July 2011, the summer of the flood. In 2009, the Ohio native, who was raised on a farm, became an active member of the Sustainability Committee and was its president from 2012 to 2014. During that time, she organized Earth Day activities. In 2016, she was elected to Staff Senate.

The life goal for Ingledue is to make a difference in someone else's life: to make them smile or make their day just a little bit better than it was.  She and her husband, Nick, have three children.
Retirements
Front Row L to R: Margaret Sherve, Nancy Pearson, Melanie Moore, Linda Benson. Back Row L to R: Sherry Lee Wheeling, Frank McCahill, Thomas Froelich, Diane Sjol. Not pictured: Shirley Cole-Harding, Donna Harvey, Pam Hopkins, Susan Mosser, Orlene Schroeder, ShaunAnne Tangney, Mark Timbrook, Nelrene Yellowbird.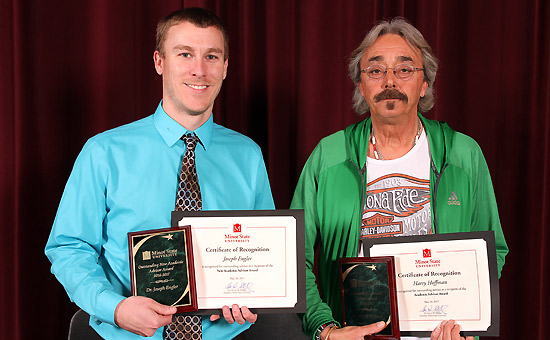 Outstanding Academic Advisors
Joseph Engler, Outstanding New Academic Advisor Award and Harry Hoffman, Outstanding Academic Advisor Award.
Service Awards
Sixty-nine Minot State University employees were acknowledged for five-year increments of service. They are: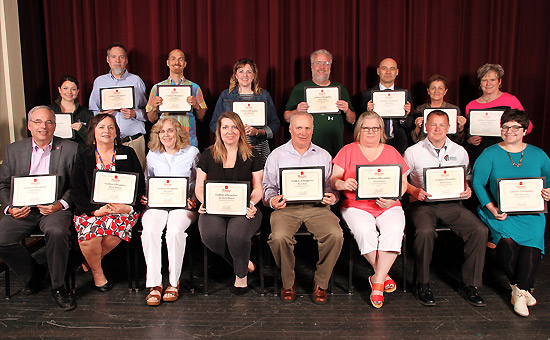 5 Years of Service
Front Row L to R
: Chuck Barney, Annette Grant-Mennem, Teresa Slack, Ann Haider-Bougard, Kevin Kvale, Celeste Pierson Simmons, Steve Swenson, Nicole Thom-Arens.
Back Row L to R
: Ashley Dhuyvetter, Erik Kana, Micah Bloom, Janna Olson McKechnie, Charles Moody, Jacek Mrozikl, Niki Roed, Marilyn Undhjem.
Not pictured
: Paul Cristofaro, Lisa Dooley, Michael Klemp, Kevin Lawson, Rhonda Lenton, Forrest Macy, Brandon Neiss, Kelly Prellwitz, Dionne Spooner, Janan Thom, Bonnie Trueblood.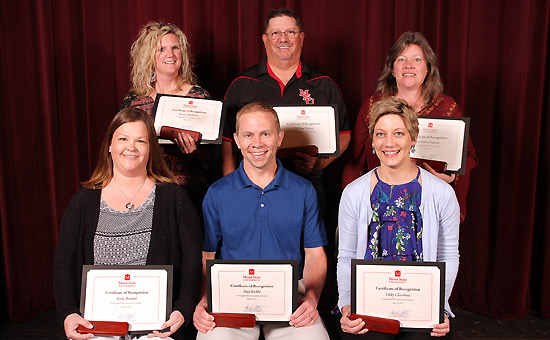 10 Years of Service
Front Row L to R
: Karla Olson Bredahl, Paul Brekke, Libby Smith Claerbout.
Back Row L to R
: Nancy Ahmann Mickelson, Bill Triplett, Gretchen Ingledue.
Not pictured
: Luke Blikre, Sarah Henderson, Lori S Ihli, Kelly Lichtenberger, Marv Semrau.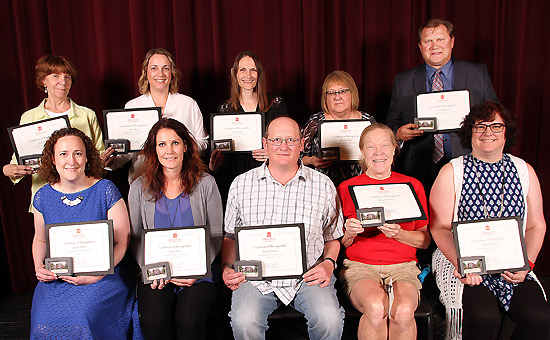 15 Years of Service
Front Row L to R
: Jolina Miller, Cari Olson, Scott Peterson, Margaret Sherve, Donna Ziegler.
Back Row L to R
: Judy Bacon, Kristi Schaefer Berg, Laurie Randolph Geller, Deanna Johnson Head, Rick Hedberg.
Not pictured
: Kari Schmidt.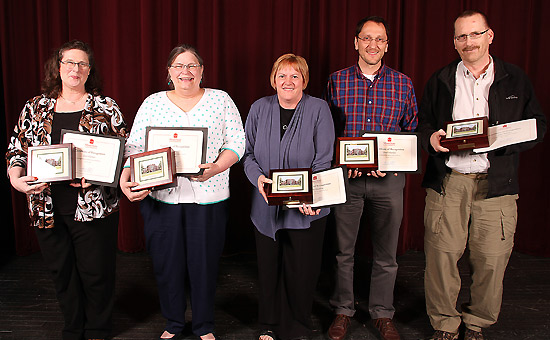 20 Years of Service
Front Row L to R
: Lori Garnes, Cynthia Geyer, Linda Madsen, Paul Markel, John Webster.
Not pictured
: Bill Harbort.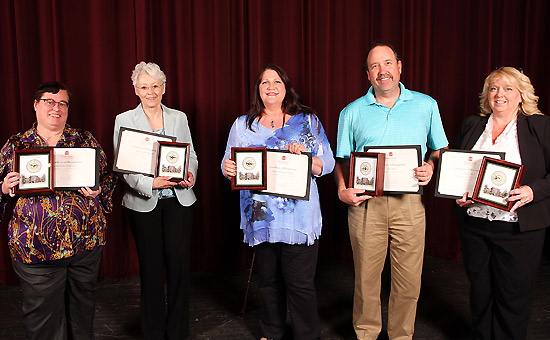 25 Years of Service
Front Row L to R
: Bethany Andreasen, Rita Curl-Langager, Karen Brunner Wright, Scott Kast, Susie Leintz Mack.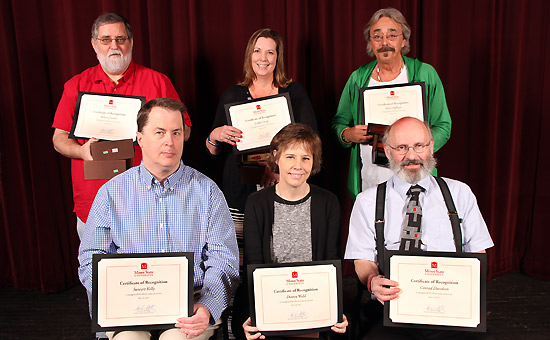 30 Years of Service
Front Row L to R
: Stewart Kelly, Doreen Wald, Conrad Davidson.
Back Row L to R
: Robert Crackel, Linda Cresap, Harry Hoffman.
Not pictured
: Kevin Vang.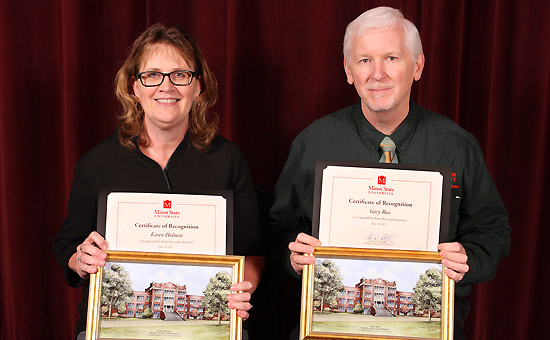 35 Years of Service
Karen Holmen and Gary Ross.