Annual Recognition Awards for 2009-2010
Three faculty members, Mikhail Bobylev, Patricia Jorgenson and Cheryl Nilsen, and two staff members, Leon Perzinski and Scott Peterson, received MSU Board of Regents Achievement Awards today during Minot State University's Annual Employee Appreciation Banquet.
Faculty Achievement Awards
This program was established in 1985 by the Burlington Northern Foundation. In 1990 the Board of Regents established a second award and now solely supports the awards to recognize outstanding university teaching. The intent of the award is to recognize, reward, and motivate excellence in teaching, scholarship, and service.

Scholarship — Since joining Minot State University in 2002, Mikhail Bobylev, a chemistry faculty member within the Division of Science, has developed a new technique for the synthesis of several classes of organic compounds that dramatically reduces the time and cost of production. Bobylev's research brings national and international recognition to Minot State, and his contribution to student educational success through actively involving undergraduate students in his research is remarkable.
During Bobylev's tenure at MSU, 37 students have volunteered to do research with him, and their work resulted in 55 presentations at national, regional and local levels. Nine students currently work in his research group. Bobylev's students received 15 awards, including seven for their presentations and eight travel awards to attend the national meetings for the American Chemical Society and the American Society for Biochemistry and Molecular Biology and to present their work at these meetings.
Bobylev holds a master's degree from Moscow State University and a doctorate from the Institute of Plant Protection Chemicals, Moscow, Russia.
Bobylev embodies the best that Minot State University has to offer in terms of scholarly accomplishment linked to the university's core values of excellence in student learning.

Teaching — Patricia Jorgenson, a faculty member in the Department of Teacher Education and Human Performance, came to Minot State in 2002 after teaching at Minot Public Schools for 31 years. Jorgenson, who teaches elementary education courses and supervises student teachers, is a student-centered teacher and believes that students learn best when they are actively engaged and making connections to the covered material. She continually revises her teaching to best support student learning using brain-based teaching strategies.
Jorgenson shows students the importance of possessing a personal passion for their chosen field and models a dedication for continuous professional development and improvement. She keeps current on the research in her field and is active in her professional community. She serves on the statewide Reading First Team and presents to statewide reading organizations. Jorgenson also advises the Student North Dakota Education Association, MSU's student professional organization; she has received the organization's Outstanding Advisor award numerous times.
Jorgenson, an alumna, is originally from Powers Lake. She received her bachelor's degrees from the University of North Dakota and her master's degree from Minot State.
Jorgenson is a model of passion, commitment, joy and the motto "Students First" in her daily life and in all of her interactions with students.

Service — Cheryl Nilsen, a faculty member in the Department of Mathematics and Computer Science, leads by example through her dedication, convictions, ethics and professionalism in teaching and community contributions. She serves the education profession by preparing knowledgeable and confident K-12 mathematics teachers who can enhance their students' learning. Nilsen, who is originally from rural Minot, developed the elementary/middle school mathematics concentration within the Master of Education program. A member of the North Dakota Council of Teachers of Mathematics board of directors, she regularly presents at NDCTM and North Dakota Education Association conferences.
Nilsen serves on numerous campus committees in leadership roles. She is vice president of Faculty Senate, chair of the Academic Assessment Committee, co-chair of the Program and Policy Committee, and she serves on the Center for Engaged Teaching and Learning Advisory Board. Currently, Nilsen is coordinator for MSU's National Council for Accreditation of Teacher Education accreditation and state program approval visit in fall 2010.
Nilsen, an alumna, completed her bachelor's degree at Concordia College, her master's degree at Minot State and her doctorate at Montana State University-Bozeman.
Within the region, the Riverdale and Minot resident manages and judges high school speech meets. Nilsen, a consummate performer, sings in the MSU Women's Chorus and Minot Chamber Chorale, of which she is a board member. A member of the Western Plains Opera Company, she has also directed Western Plains Children's Choir productions. Respected within the speech and theater community, the Communication, Speech and Theatre Association of North Dakota named Nilsen as Teacher of the Year in 1991 and inducted her into its Hall of Fame in 2002.
Staff Achievement Awards
The Board of Regents Staff Achievement Award was established in 1991. The Board of Regents established the award to recognize university staff members for outstanding service to the University and the community.

Leon Perzinski, Student Center director, arranges all Student Center activities, and he knows the building's capabilities. He interacts with numerous people who visit the Student Center; these people are from MSU, the community and the surrounding area.
The diversity of Perzinski's daily contacts is staggering. In a day, the Tioga native can manage an event for 150 people, produce dozens of IDs, schedule several meetings, answer questions from students, faculty, staff and community members, keep the music rolling in the Beaver Dam, set up student meal plans, chaperone a student dance and deal with any student issues that pop up. By providing that "extra" touch, he demonstrates excellence in service.
An alumnus, Perzinki returned to MSU as a food service director in August 1990 and became Student Center director in 1997. Serving students has become one of his main responsibilities, and he excels in this area. Numerous students go through his office daily, and he treats them with respect and friendliness. Since he is a past MSU Student Association vice president, he co-advises the Student Government Association. He presents tactful options to students so they can make sound decisions for the students they represent.
Perzinski volunteers at the Norsk Høstfest, and he collaborates with the Minot REACT group in organizing the Homecoming Parade. He chairs the Employee Appreciation Banquet Committee, co-chairs the Emergency Operations Planning Committee and serves on numerous other campus committees.
A single day's challenges make Perzinski's job exciting for him; he is a great asset to MSU.

Scott Peterson, a day team leader for Minot State University's Office of Plant Services, greets everyone daily with a smile. This Makoti native is the first person many people see in the Student Center each day, and he always starts their day with a positive greeting. This positive greeting likely gives these people the incentive to "pay it forward" to others that they meet.
Peterson, who attended MSU, owned his own cleaning company for 17 years before beginning employment with Minot State in July 2001. He is an outstanding staff member who has made a personal commitment to perform his duties in a professional and positive manner. An example of his commitment is the recent H1N1 cycle. He constantly cleaned his building, in an effort to protect the students, faculty and staff. Peterson did not want anyone to get sick on his watch, and he did everything possible to keep everyone healthy. He also helps with student activities.
Peterson represents MSU's custodians on Staff Senate, and he was a member of the Vision 2013 Strategic Planning and Budgeting Council. Within the region, Peterson, a certified referee, is involved in numerous basketball, softball and soccer events. He has coached Our Redeemers Lutheran Boys and Girls Basketball Teams. He has judged agronomy exhibits and cattle for Ward County 4-HAchievement Days and the North Dakota State Fair.
Peterson goes "above and beyond" everyday, all day.
Service Awards
Minot State University employees were recognized for five-year increments of service.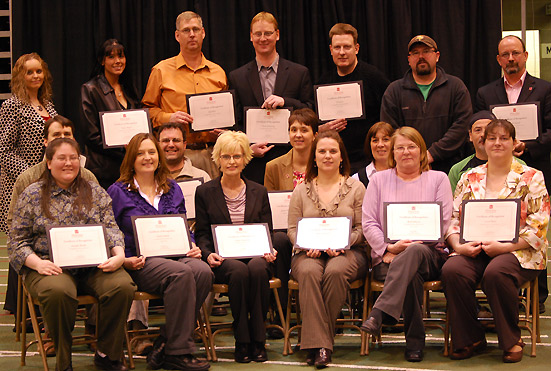 5 Years of Service
Back row
-- Abbie Baklenko, MSU Post Office; Dawn Reule, Rural Crime and Justice Center; Rod Hair, Institutional Planning and Rural Crime and Justice Center; Dean Frantsvog, accounting and finance; TJ Lipsey, Plant Services; Corey Ell, Plant Services; John Girard, business administration;
Middle row
-- Paul Lepp, biology; Matthew Schaefer, Rural Crime and Justice Center; Jolene Nechiporenko, Gordon B. Olson Library; Becky Volk, Copy Center; Chad Fenner, N.D. Center for Persons with Disabilities;
Front row
-- Jennifer Bowles, special education; Carla Cabarle, accounting and finance; Kathy Tarasenko, science; Rebecca Ruzicka, Rural Crime and Justice Center; Barb Johnson, Business Office; Laurel Hyatt, Business Office.
Not pictured
-- Dianne Bossert, N.D. Center for Persons with Disabilities; David Fuller, President's Office; Margie Hair, nursing; Rachelle Loda, Rural Crime and Justice Center; Stu Melby, athletics; Melissa Spelchen, criminal justice and Bismarck site; Deb Wentz, President's Office; Naomi Winburn, science.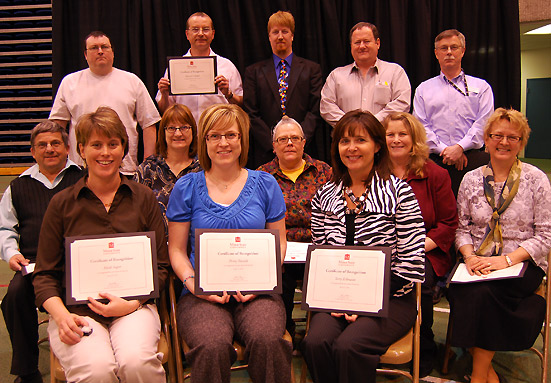 10 Years of Service
Back row
-- Neil Fulton, IT Central; Wojciech Cebulak, criminal justice; Ryan Winburn, science; Stephen Hayton, mathematics and computer science; Mark Timbrook, Center for Extended Learning;
Middle row
-- Ron Weinmann, business administration; Toni Schwartz, criminal justice; Deborah Olson, addiction studies, psychology and social work; Kris Warmoth, Center for Extended Learning; Ruth Kihm, addiction studies, psychology and social work;
Front row
-- Heidi Super, biology; Penny Brandt, Vice President for Acadmic Affairs Office; Terry Eckmann, teacher education and human performance.
Not pictured
-- Guy Hanley, science; Patty Hunt, Gordon B. Olson Library; Cheryl Kremer, music; Ernst Pijning, social science; Jerry Stai, accounting and finance.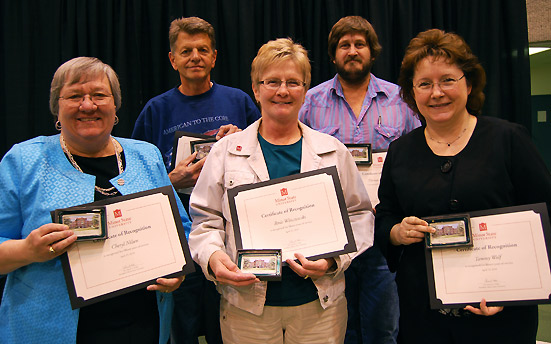 15 Years of Service
Back row
-- Tom Thorson, Plant Services; Thomas Eisenzimmer, Plant Services;
Front row
-- Cheryl Nilsen, mathematics and computer science; Rosie Winczewski, mathematics and computer science; Tammy Wolf, Career Services.
Not pictured
-- DeVera Bowles, music; Alan Ekblad, special education; Scott Muhle, Plant Services; James Ondracek, business administration; Jon Rumney, music.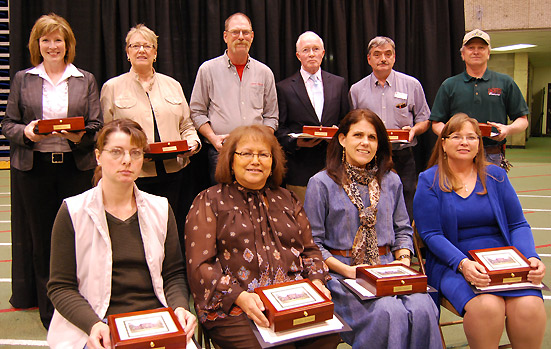 20 Years of Service
Back row
-- Renae Yale, Gordon B. Olson Library; Linda Haider, nursing; Brad Brentrup, Plant Services; Frank McCahill, humanities; William Mosser, Plant Services; Terry Wald, Plant Services;
Front row
-- Rhonda Holden-Selk, Plant Services; Evelyn Klimpel, Student Development Center; Kathy Nelson, Financial Aid Office; Lori Willoughby, business information technology.
Not pictured
-- Jane la Plante, Gordon B. Olson Library; Jonathan Wagner, social science.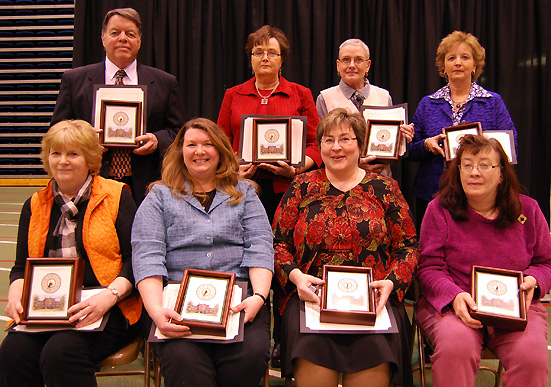 25 Years of Service
Back row
-- Dick Jenkins, Student Affairs Office; Julianne Eklund, business information technology; Paula Lindekugel-Willis, humanities; Sharon Reynolds, business information technology;
Front row
-- Sherry Wheeling, humanities; Donna Weishaar, infant development; Joan Houston, accounting and finance; Linda Benson, Public Information Office.
Not pictured
-- Larry Atwood, mathematics and computer science; Dale Gehring, Financial Aid Office; Allen Kihm, science.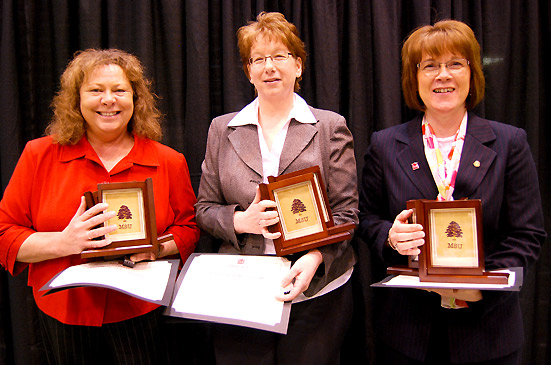 30 Years of Service
Sandy Foley, Bookstore; Patricia Hrichena, student life and housing; Teresa Loftesnes, marketing.