Annual Recognition Awards for 2008-2009
Faculty Achievement Awards
This program was established in 1985 by the Burlington Northern Foundation. In 1990 the Board of Regents established a second award and now solely supports the awards to recognize outstanding university teaching. The intent of the award is to recognize, reward, and motivate excellence in teaching, scholarship, and service.

Service-Elaine Larson, a Minot State University alumna and a faculty member and the director of advising and field placement within the Department of Teacher Education and Human Performance, has been advising student teachers since 2002. From 1978 to 2002, she taught courses in family and consumer sciences. As the director of advising and field placement, Larson assists 75-100 majors and has been the human interface with hundreds of teachers, supervisors, administrators and students on MSU's behalf. Her work, which has extended across the country and internationally, has helped Minot State maintain a reputation in the educational community for the highest quality new teachers. Through the years, Larson has served MSU and the community in a commendable manner; she has taken an active role in numerous committees and organizations. Larson's state and national service has extended into the family-and-consumer-sciences and teacher-education-and-field-placement arenas. She has also shared her professional experience, regularly presenting at local, state and national conferences. She completed a second bachelor's degree and a master's degree from North Dakota State University. In 2006, she completed her doctorate degree from the University of North Dakota. Larson exemplifies MSU's core value of "Students First."

Service-Dennis Simons, a faculty member in the Division of Music and conductor of the Minot Symphony Orchestra, joined Minot State in 2002. Simons has a distinguished reputation as a violinist, teacher, conductor, adjudicator and chamber-music specialist. The MSO not only improves the region's quality of life as a cultural entity, it serves as an educational resource for area youth by performing children's concerts. Under Simons' leadership, the MSO concert programming has been formulated to provide exposure to all types of symphony-orchestra music, including music having global diversity. He has actively served on many campus, community and state committees.
Possessing a recital diploma from London's renowned Royal Academy of Music, this institution also awarded Simons a fellowship, a distinction limited to only 250 living alumni at any one time. He is currently pursuing a research doctoral degree from the University of North Dakota. Prior to his appointment at MSU, Simons has been the leader of the Alberni String Quartet, concertmaster of the British Broadcasting Corporation Philharmonic and London Philharmonic Orchestras, music director of the Shreveport Symphony Orchestra and conductor and artistic director of the Saskatoon Symphony Orchestra. As a solo violinist, he has broadcast extensively for the BBC and performed in England, France, Finland, Canada, U.S. and New Zealand. As an adjudicator, Simons has served on many international juries. He has taught in his native Canada at the University of Saskatchewan and in Manchester, England, at the Royal Northern College of Music and Chethams School of Music.
Staff Achievement Awards
The Board of Regents Staff Achievement Award was established in 1991. The Board of Regents established the award to recognize university staff members for outstanding service to the University and the community.

Linda Benson's involvement and contributions to Minot State University span three decades and go back to her days as a student. Benson received her two bachelor's degrees in 1983 and her master's degree in 2000. Her engagement on campus started as a student, when she was a writer and eventual editor of the Red & Green student-newspaper. Her membership in the Beta Theta Sorority also offered many opportunities to be involved in campus activities. Since graduation, her 25 years of service to the university include work in the Student Loan Collection Department, the Business Office and, for the past three years, as the public information specialist in the Office of Public Information. Her daily announcements keep the campus in touch with relevant news. Her news releases keep the community, state and region informed about MSU. Her leadership in tackling larger projects, like Inside, MSU's newsletter, shows her true professionalism and dedication to the mission and goals of Vision 2013. Benson's love for MSU is also shown through her service in the Staff Senate, including three terms as its president, her numerous years of service on the North Dakota Center for Persons with Disabilities Advisory Council, and membership on the Women's Heritage Month Committee. She takes her involvement in the community seriously, participating in the Minot Eagle's Auxiliary, Sons of Norway and the Women of the Moose.

Wylie Hammond has served Minot State as the director of multicultural support services and the Native American Cultural Center since 1992. His sensitivity and accessibility, along with a tremendous sense of humor, help him relate well with students of all backgrounds. As evidence of his students' trust in him, the Native American Cultural Awareness Club asked Hammond to be their advisor. In working with this club, he has helped to make the MSU Spring Honor Dance and Powwow an annual, two-day event with many educational opportunities for the community. In 1996, he was instrumental in establishing a Native American Cultural Center. In addition to being an advocate for the needs of Native American and students of other cultures, Hammond organizes activities that provide cultural education and promote better understanding of our global society. In 2007, he worked with the family of Nathan Goodiron, an MSU student who died in action in Afghanistan, to create a campus memorial display. Hammond assisted in the establishment of Memorandums of Understanding with Fort Berthold Community College, Turtle Mountain Community College and United Tribes Technical College. He utilizes high ethical and moral principles to deliver services in a personal and professional manner. Hammond received his bachelor's degree from Mankato State University, Mankato, Minn., and his master's degree from the University of Americas-Santa Catrina Martir, Pueblo, Mexico.
Service Awards
Twenty-nine Minot State University employees were recognized for five-year increments of service.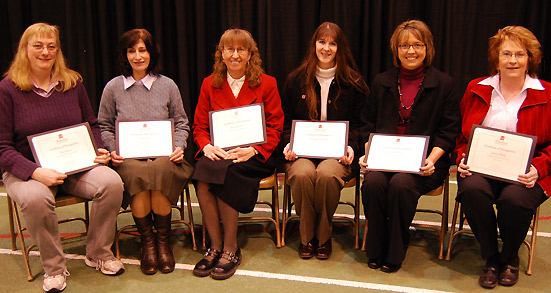 5 Years of Service
Patti Kurtz, humanities; Rita Meyer, nursing; Debra DeWitz, addiction studies, psychology and social work; Kimberly Schwinler, Center for Extended Learning; Jennifer Sick, registrar's office; and Johnna Westby, special education. (Not shown: Erik Anderson, music; Charlene Bruley, addiction studies, psychology and social work; and Wendy Thomas, North Dakota Center for Persons with Disabilities.)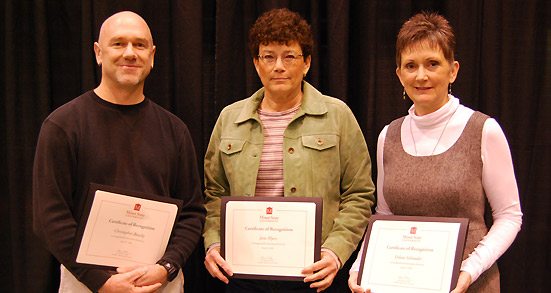 10 Years of Service
Christopher Beachy, biology; Jane Myers, North Dakota Center for Persons with Disabilities; and Orlene Schroeder, communication disorders, (Not shown: Catherine Haarstad, North Dakota Center for Persons with Disabilities; Michael Hultz, athletics; and JoLynn Webster, special education.)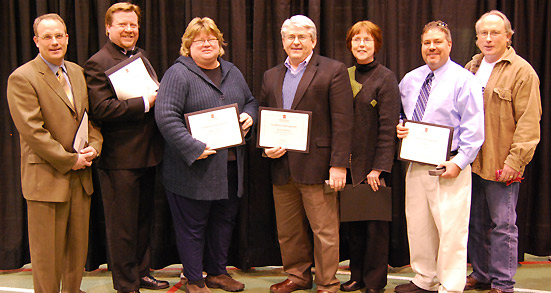 15 Years of Service
Gary Rabe, academic affairs; Eric Furuseth, humanities; Rebecca Anhorn, teacher education and human performance; Kenneth Bowles, music; Mary Mercer, North Dakota Center for Persons with Disabilities; Neil Roberts, humanities; and Richard Watson, humanities.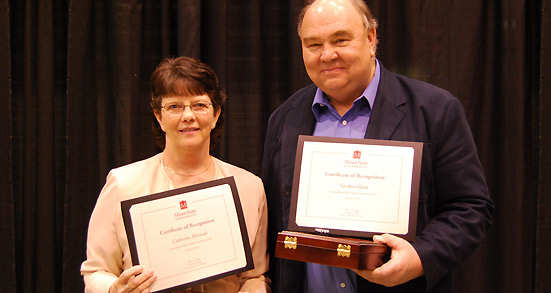 20 Years of Service
Catherine Horvath, Information Technology Central; and Gordon Olson, mathematics and computer science.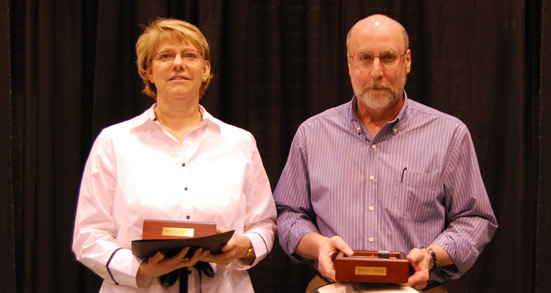 25 Years of Service
Lynda Bertsch, career services; and Thomas Froelich, communication disorders.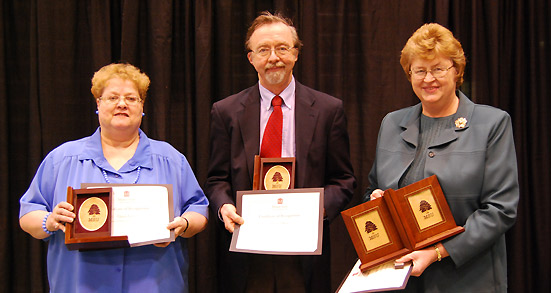 30 Years of Service
Elaine Larson, teacher education and human performance; Selmer Moen, mathematics and computer science; and Linda Pettersen, nursing.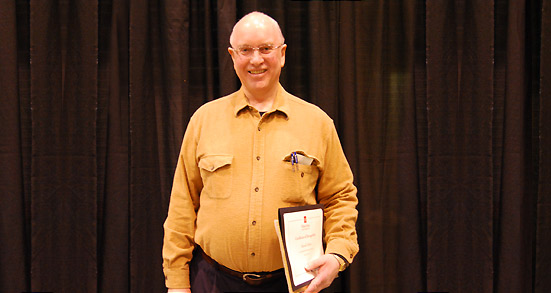 40 Years of Service
Harold Nelson, humanities.