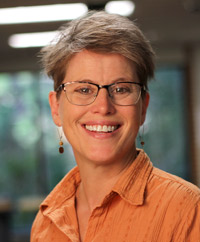 Dr. Heidi Super, Ph.D.
Professor, Medical Laboratory Science Program Coordinator
Office: 217 Moore
Email: heidi.super@minotstateu.edu
Phone: (701) 858-3079

» Curriculum Vitae [pdf]
Education
Dr. Super received a B. A. in biology from Carroll College, Helena MT in 1988. She then held a Graduate Research Fellowship at the Oak Ridge National Laboratory for one year (1988-1989) before going to the University of Chicago where she earned a Ph.D. in Molecular Genetics and Cell Biology in 1995. Dr. Super joined the Biology faculty at Minot State in 1999 after completing a three-year position as a Post-Doctoral Research Associate at the National Institutes of Health, Rocky Mountain Labs in Hamilton, MT. 
Courses Offered
NOTE, materials found here may not be current.  Course websites are updated only during the semester the course is taught.
Research Interests
Dr. Super is a molecular geneticist. Her focus is in cancer genetics, in particular in chromosome abnormalities associated with leukemias. Since many subtypes of leukemia are associated with specific recurring chromosome rearrangements, these chromosome abnormalities serve as markers for locating genes involved in tumor initiation or progression. Super studies one such gene, called MLL, which is mutated in as many as 70% of all infant and childhood leukemia cases. MLL is found on human chromosome 11 and is mutated through chromosome translocations with many other chromosomes. These translocations result in the formation of MLL fusion genes, which are expressed as abnormal MLL fusion proteins. Dr. Super's interests in MLL are varied, but she focuses her interest in three areas: 1) the mechanism behind the frequent translocations involing MLL in children with leukemia, 2) the correlation between treatment with chemotherapy agents and subsequent rearrangement of the MLL gene in secondary leukemias and 3)the characterization of the genes that MLL fuses with from other chromosomes.
Dr. Super also has interest and training in immunology. She has studied the immune response to retroviruses using mouse models. Her work has contributed to mapping the chromosomal position of an important viral restistance gene. This gene, Rfv3, controls the antibody response to a specific retrovirus in mice. Super plans to study this gene further, with the immediate goal to futher narrow position and clone it. Study of this gene may lend understanding to the human immune response to human retroviruses such as HIV 1.
Selected Publications
der Poel, Shervyl Zieman-Van, Norah R. McCabe, Heidi J. Gill(Super), Raphael Espinosa III, Yogesh Patel, Allana Harden, Peter Rubinelli, Stephen D. Smith, Michelle M. LeBeau, Janet D. Rowley, and Manuel O. Diaz. Identification of a gene, MLL, that spans the breakpoint in 11q23 translocations associated with human leukemias. Proc. Nat. Acad. Sci. 88:10735-10739.
Broeker P., Gill Super H. J., Thirman M. J., Pomykala H., Yonebayashi Y., Tanabe S., Zeleznik-Le N., Rowley, J. D., (1996) Distribution of 11q23 breakpoints within the MLL breakpoint cluster region in de novo acute leukemia and in treatment-related acute myeloid leukemia: Correlation with scaffold attachment regions and topoisomerase II consensus binding sites. Blood, 87: 1912-1922.
Gill Super H.J., Strissel P. L., Sobulo O. M., Burian D., Reshmi S. C., Roe B., Zeleznik-Le N.J., Diaz M.O., and Rowley J. D. (1997) Identification of complex genomic breakpoint junctions in the t(9;11) MLL-AF9 fusion gene in acute leukemia. Genes Chromosomes and Cancer, 20: 185-195.
Super H.J., Brooks D., Hasenkrug, K., and Chesebro, B. (1998) Requirement for CD4+ T-cells in the Friend murine retrovirus neutralizing antibody response: Evidence for functional T-cells in genetic low recovery mice. J. Virol, 71: 9400-9403.
Super H. J., Hasenkrug, K., Simmons, S., Brooks, D., Konzek, R., Sarge, K., Morimoto, R., Jenkins, N. A., Gilbert, D. J., Copeland, N. G., Frankel, W., and Chesebro, B. Fine mapping of the Friend murine leukemia retrovirus resistance gene, Rfv3, on mouse chromosome 15. J. Virol 73:7848-7852.