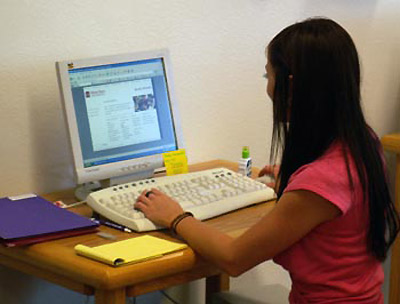 E Tutoring
eTutoring at the Minot State Writing Center
With your busy schedule and assignments, you may find it hard to schedule a face-to-face appointment. We have a solution: tutoring via email.
However, if possible, we encourage you to come visit our tutors at the Writing Center. In person discussions are the best way to get help on your paper. Plus, we like to see your smiling face! 
How to make an eTutoring appointment:
Log into WC Online. Click on any white space (indicates an available tutor).
In the pop-up menu, you will be asked "Meet online?" Click on "Yes.
Schedule eTutoring appointment.
Fill out the rest of the appointment form. You will be prompted to attach your paper.

How eTutoring works:
Your tutor will read and respond to your paper using a different colored font for their comments before sending your paper back to you via email. Be sure you register for WC Online with a working email that you check often. If you mistype your email, we won't be able to get your paper to you.

We will use the same hierarchy of response that we use for face-to-face tutoring.

Tutoring is collaborative learning. This means we will point out some errors and explain some ways you might fix them. Using our models and suggestions, you then need to proofread for similar errors and make the corrections. We do not correct every error. Instead, we help you locate patterns of errors in your writing. 
We will also offer suggestions for revising and developing your ideas, with the aim of making your paper better. As always, the paper is yours, and it's your choice whether to take our suggestions or not. Remember that our suggestions and comments are designed to help you become a better writer and editor of your own work. 
"We don't make better papers. We make better writers." Donald Murray.