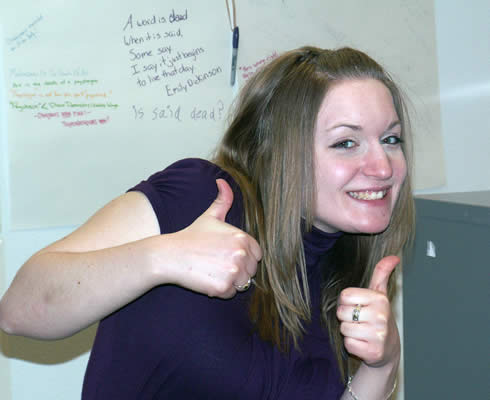 Be a Tutor
We're always looking for writing tutors. Interested?  Tutoring may be right for you if you:
Enjoy writing
Like meeting and talking to new people
Love to read
Enjoy helping others
Want a campus job with flexible hours
Need some resume building experience
No prior tutoring experience required, and you do not have to be an English major.
Training and practice are provided through a 1 credit course, ENGL 318 Writing Tutor Training.
You must have a 3.0 GPA and have completed ENGL 110 and 120 with a B or higher. 
Interested?
Here's what some of our former tutors have said about tutoring:
"I love getting the chance to hang out with so many different students. Also, I like reading and writing."
— Matt
"I tutor for the experience of working together with aspiring writers through conversation. I'm always learning something new."
— Nathan
"It's fun! I get to see and hear so many different ideas on topics. It keeps me learning."
— Beth

For more information, email Patti Kurtz, writing center director at patti.kurtz@MinotStateU.edu or call her at 701-858-3073. You can also stop by her office at 302 East Hartnett Hall.