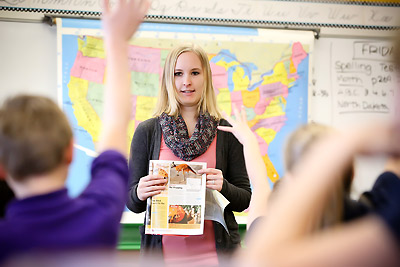 Welcome
The Department of Teacher Education & Kinesiology has a rich heritage at Minot State University. Educating professional teachers has been part of the university's mission since its founding in 1913. Through coursework and field experiences we help our graduates build the knowledge, skills, attitudes, and behaviors they need to deliver optimum learning experiences to their pupils.
Program options include:
In addition to providing the required courses for all teaching majors, the department coordinates practicum and student teaching placements. The department also provides specialized training in reading, early childhood education, and middle school.
Admission to Teacher Education Acceptance into teacher education programs is not automatic. Candidates demonstrate proficiency in general studies and education courses (minimum GPA of 2.5); document 20 hours of supervised activities with children; provide references; and more. For complete requirements, see our teacher education acceptance information and checklist.
Contact Us